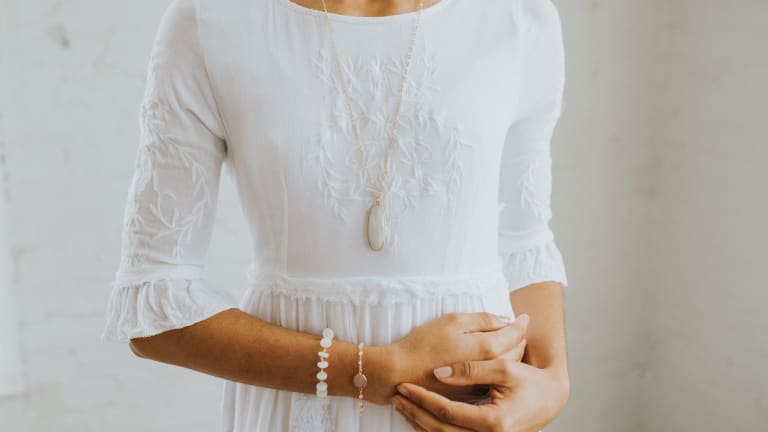 3 Secrets to Buying Clothes Online That Always Fit
Prepare yourself for the future of clothing shopping.
As a style editor, it might surprise you to learn that I never go shopping. Well, not in physical stores, anyway. I made the switch to shopping ethically almost two years ago, and ever since, my shopping habits have completely changed. Gone are the days of waltzing into department stores and casually trying on items before purchasing. Instead, many of my preferred brands tend to live online more than brick-and-mortar. As any online shopper knows, though, sizing can be a bit of a crapshoot—especially when venturing away from big-box stores and diving into the world of Etsy vintage shopping.
Through much trial and error—which mostly means crying over dresses that were too small—I began to learn some secrets for achieving online shopping success. Here are three tricks I use to make sure anything I buy online will fit.
01. Know Your Measurements
This one may seem obvious, but how many of us actually know what our bust, waist, and hip measurements are? A lot of us generalize our measurements by saying, "Oh, I'm around a size 10 or 12. It depends." We've become used to relying on store sizes that, frankly, are arbitrary and tell us little about our actual size. This is why so many women say, "I have to try something on in the store."
The key to understanding your size and finding something that fits is to compare your measurements to the stores' charts you shop at most. Say your waist is 31 inches around. By finding that number on the chart, you can cross-reference it to what size that would be in the store.
Going by your inch measurement rather than the usual thinking of, "Oh, I wear a large, so I'll just order that," will make a huge difference. Take, for instance, these charts from J.Crew and Asos:
Someone with a 31.5-inch waist simply ordering their usual size 12 item would have been disappointed to find that the piece from Asos probably wouldn't fit; there they would have needed a 14. Starting at the inch column rather than the size column is a much safer bet when online shopping.
The bust, waist, and hip measurements should match up, but because we are all beautifully diverse women of varying body types, this doesn't always happen. Which brings me to my next point.
02. Only Buy Certain Types of Clothing Online
As a pear shape, my bust is a small at 34-36 inches, my waist is a medium at 28 inches, and my hips are a large at 41 inches. Oh yes, I have the best of all the worlds. For this reason, I have a rule to never buy pencil dresses, sheath dresses, or maxi dresses online. Ever. Why? Because the form-fitting styles depend upon exact measurements; it's too much of a gamble.
A fit-and-flare dress, however, only depends upon a matching bust and waist measurement. Better yet, a flared skirt just requires an accurate waist measurement because the hips are free. This is why I solely buy A-line dresses, flared skirts, and tops online. It may seem like I get lucky with online shopping, but I really just know how to buy the items that have the greatest chance of fitting and avoid the tricky ones. Scan your closet for the type of item you wear most, and look at the sizes you typically buy; that is probably the silhouette you'll be safest buying online.
03. Read Customer Reviews on Sizing
Now, here's where online shopping gets a little risky. Sometimes we're in between sizes, and sometimes store items run small or large. Specifically, shoes. I'm a size 9.5, which means I can either go up to a 10 or down to a 9 depending on the store. If I'm trying to decide whether I should buy a pair of shoes, I do extensive customer review research. I look through all the comments to see any mention of the shoe running small or large, and I'll even take to random clothing forums on Google to get answers.
For example, when looking into a pair of shoes from the French store Sézane, I reached out to a fashion blogger who wears them a lot to ask how the shoes run. She said they run small, so I went up to a size 10, and they ended up fitting perfectly. When shopping from Soludos, however, I noticed forums saying that their shoes tend to run larger and that they stretch over time, so I went down a size.
Online shopping requires a little more legwork perhaps, but once you figure out your go-to size at a few reliable places, you'll be able to kiss shopping malls goodbye for good.
As you begin shopping online, you'll start to learn more about your body. You'll learn about the clothing styles and fits that you have the most success with based on your measurements, ultimately helping you find clothes that flatter you best. You might experience some trial and error, but if you keep at it (and learn each store's return policy), you'll be able to trust your online shopping skills in no time.
Photo Credit: Lena Peterson