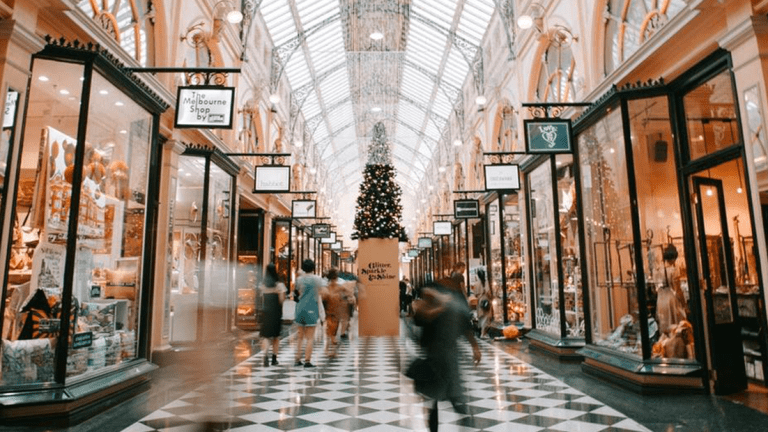 3 Ways I'm Making Holiday Shopping Less Stressful This Year
Don't be among the 60 percent of shoppers who say they're fatigued and overwhelmed.
There comes a point in every young adult's life when they realize they're officially obligated to give more substantial Christmas gifts to friends and family. Well, at least that's how I felt last year. My first foray into adult-level gifting was more stressful than joyous. After attempting to find the perfect gift for each of my (eleven) nieces and nephews at the mall, I ended up quitting within the first hour and just bought one board game (#auntfail). I quickly learned that being an adult during Christmastime equals stress, most of which comes from shopping for gifts.
I also learned that I'm not alone in my gift-giving stress. According to a study commissioned by eBay in 2016, Christmas shopping can be as stressful as running a marathon and increases your heart rate by 33 percent. Apparently, 60 percent of participants had fatigue just thirty minutes into their shopping trip, and 88 percent experienced tachycardia, a heart rhythm disorder where your heart beats faster than normal while at rest. Yikes. Shocking, but not that surprising.
So, what is a smart shopper to do? Since last year, I've come up with a game plan to conquer my Christmas gift list with the least amount of stress. Here's how.
01. Stay Within Your Realm of Expertise
When shopping, I get the most stressed when trying to guess what my giftee is interested in and what gift will perfectly fit that. Because I work as a style and beauty editor, I try to stick to the genre of accessories, clothing, and makeup when gifting unless I'm specifically told otherwise. Because I know what's high quality and well reviewed, I'll be confident in the gift's success.
Sticking to my expertise also makes it a little more personal because the receiver will know I'm trying to combine my own interests with theirs. For example, once I received a book from an avid classics reader. Inside the book, she explained how the book had impacted her life and that she wanted to share that joy with me. This really moved me and made the gift even more special.
02. Stick to No-Fail Items
If you're in a rush or your giftee is super-picky, it's best to avoid buying overly distinct items, no matter how much you personally love it. For example, one year my mom got me a long, skinny glittery scarf that could also be used as a belt, à la Lizzie McGuire. The item was so bold that my opinion would naturally be of two extremes: (1) Love it! (2) Hate it. (Sorry, Mom.) The goal when shopping is to find an item neutral enough that nobody could strongly dislike it. Usually, these items tend to walk the line between practicality and pleasure.
Who could dislike a cozy, warm cable-knit fisherman sweater? A simple, delicate gold chain necklace with a little locket? A pair of luxurious lounge pants? A monogrammed leather pouch? A silky robe? Answer: No one.
03. When All Else Fails, Etsy.com
Since Amazon has become the twenty-first century version of Santa's workshop, a whole world of online shopping has been opened to us. So why not take advantage of it? If there's anything I learned from being obsessed with online vintage shopping, it's that Etsy is where it's at. It's like a virtual mall full of boutique shops with handmade clothes, home goods, accessories, jewelry, and the like. For those who love to connect with shop owners and buy unique items, Etsy offers a platform that allows you to interact with them, ask questions, and feel like your purchase is supporting someone's craft. Overall, it's a more personal shopping experience, which makes the gift feel more personal. And let's not forget the main point, which is that you're shopping from the comfort of your own home and not fighting the masses.