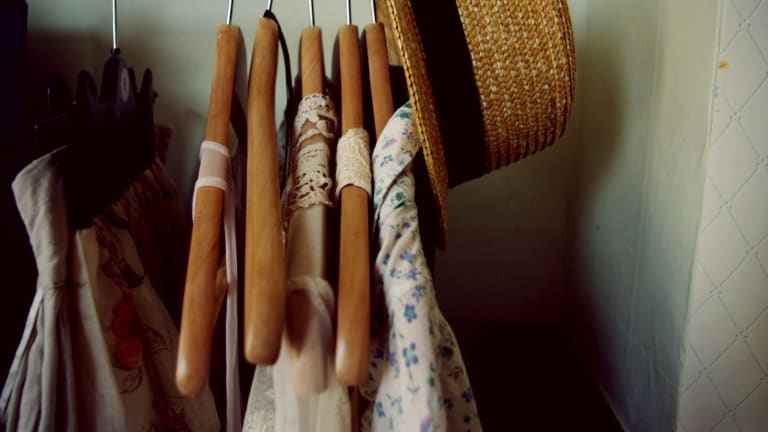 Easy Hacks That Will Make Selling Your Unwanted Clothes So Much Easier
Rid your closet of unwanted clothes and make a little cash at the same time.
You know that pile of old clothes you've mentally marked as "need to get rid of"? Let's be real, we all say that we're going to make money from selling our unwanted digs, but getting that pile off the floor of your closet and onto a selling platform is harder than it looks. 
As you begin the new season by packing away your summer clothes and busting out your fall wardrobe, now is the perfect time to make that final effort to rid your closet of the unwanted. While you're reevaluating your wardrobe and putting aside the items you never wear, why not take the opportunity to make some money off of your used goods?
There are tons of options to sell your clothes today—yes, many apps are being buzzed about, and the old standby, eBay, is still one of the easiest ways to earn a little cash for your goods. Do a bit of research—you can start with our roundup of new apps to sell secondhand clothes—while most are user-friendly, each platform has their own vibe and types of items that sell well. Choose the platform that works for you, and get to selling with these simple (but effective) steps!
Gather and Clean Items //
Making sure your items look their best is important to ensuring a purchase. If the piece is dilapidated and wrinkled, nobody will buy it because it will look used and low-quality. The goal is to make your clothes look as new and high quality as possible, so take your clothes to the dry cleaners or use an at-home steamer (they're very affordable, especially travel size ones). 
Photograph //
This is the most important part. A photo that says "buy me" has three main components. One, it's well lit. Take your photos during the daytime with natural light. We recommend using an app like VSCO to control for some brightness and exposure. Don't edit or use filters too much, though. Buyers can tell and will think you're hiding flaws in the item.
Two, the background is simple. Photograph your items on a white or otherwise plain background. Is there a picture hanging on a big white wall in your house? Take the frame down, and use the nail to hold your garment while you snap pics. 
Three, attention is paid to details. Any item should be hung rather than laid out on a bed or couch. You should also use a nice hanger (something wooden or velvet is best). This sends the message to buyers that you care for your things. Also, be sure to get multiple shots. At minimum, capture the front, back, and tags. 
Create The Listing // 
On eBay, creating a listing is simple, but will require time if you're posting many items. You'll need to be as detailed as possible, telling the buyer the brand, size, and materials. Be honest about the condition, and make a note about any laundering requirements (i.e. dry clean only). 
For pricing, search similar items ahead of time to gauge average prices; use the service's filters to search for completed and sold listings, so you know how much people have truly paid, not just what other sellers are asking. On an auction site like eBay, setting a reserve price (a minimum price you'll sell the item for) will cost you a little extra—this is really only worth doing for high-end items. For auctions, most sites will suggest a starting bid. It may seem low (like $3 for a blouse), but it's what they know works, so you should probably stick close to that. A lower starting price will attract more viewers.
Note that some items will ultimately sell for less than you expected, but others will surprise you and fetch high bids. It's a give and take, but on eBay (and most places) the buyer pays shipping, so you'll still make some money either way. 
After It Sells // 
This is obvious, but ship the item as soon as possible. If you're going to be selling a lot of stuff, keep shipping packages on hand for convenience. eBay, and others, will automatically populate the shipping labels. You'll pay shipping right on the app via your balance pending from the sell and be able to print the label right then and there. No waiting in line at the post office!
Remember, these sites allow users to rate their experience with you, and you have to keep that rating high to have success in the future. To that end, try to add extra touches of customer service, if you will. Buy tissue paper and wrap the neatly folded garments in a couple sleeves of tissue before packing. You don't want to go overboard with extras. After all you want your costs low so you make the highest possible profit, but little touches will garner you higher ratings. 
Follow these steps and you'll be earning back some of the money you spent on your unwanted clothes in no time!
Photo Credit: Stefany Alves