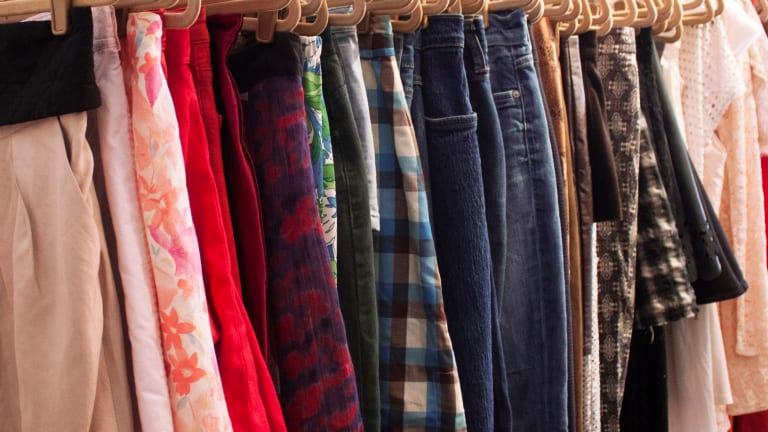 Where to Look (and Where Not to Look) In a Thrift Store For Vintage Gems
There is a science to finding the pearls in a sea of duds, and you can learn it.
If you ask me, "Where did you get that dress?" I will be one of those people who often responds, "It's vintage." Don't worry, I'm already eye-rolling at myself—I basically escaped from an episode of Portlandia. But the fact is, I have found some of my favorite and most complimented items at thrift stores.
When I share with others that I've built much of my wardrobe from thrifting, people often share how difficult it is for them to find stylish items secondhand. Do not be dismayed! It took me many years of honing my thrift store shopping skills to unlock the secret to finding second hand gems. 
I have one simple trick for finding quality treasures: Know which clothing sections you should make a bee-line for and which ones you should just avoid. It's as easy as that. At the risk of stating the obvious, your thrifting is more likely to be successful if you focus on sections that have a high success rate.
Sections To Shop
Dresses
The dress section should be the first place you look in the thrift store. Your chances of finding a gem are higher because dresses tend to be more universally flattering. Look especially for a-line or fit-and-flare dresses—the waist cinching fit is classic and timeless. Plus, the traditional fit will tone down any bold print you are sure to find. My absolute favorite thrift store finds are all a-line dresses in funky prints. I don't look too crazy because the fit is so feminine, but the expressive print still allows me to make a fashion statement.
Skirts 
It's simply easier to find flattering skirts than flattering pants. If the length hits at your knee and cinches you at the waist, you've already won half the battle. You will also find an array of throwback midi skirts in bright colors, quirky prints, and bold floral patterns. You might even spy a pencil skirt or two! Give these a try since they will most likely have lining and quality stitching. 
Pro tip: Look for high-waisted styles that look too big for you on the hanger. Often, they will fit just right. There is nothing more discouraging than trying on a bunch of items in the fitting room that are too small. When I first started wearing high-waisted fits, I kept choosing sizes that were too small and later getting angry in the fitting room at how tiny they actually were. It is especially hard to determine how a high-waisted pencil skirt will fit because the tapered fit makes the hips and rear of the skirt look bigger than they actually are.
Button-Down Shirts 
A quality retail button-down can run up to $100. At the thrift store, you can find Ralph Lauren and Tommy Hilfiger button-downs for $2 within seconds. Typically, these high-end shirts will still be in good shape, just make sure you check for sweat stains around the neck and armpits. Like dresses and skirts, button-downs are more universally flattering. You can find office-appropriate fitted styles, but I always go for striped button-downs that have royal emblems on the pockets for a more fun, preppy look. I then dress them down by rolling up the sleeves and wearing them with jeans.
Blazers
After the fit-and-flare dress, my second go-to thrift store item is the blazer. Again, you cannot beat spending a few dollars on a high quality blazer when J. Crew sells them for $200 a pop. Believe it or not, the boxier blazer fits from the 80s and 90s are exactly the ones you want to go for. The effortlessly cool "borrowed from the boys" look is especially on-trend right now. Warning: Make sure the shoulder pads are removable and not sewn inside the shoulders—unless you're channeling your inner Paula Abdul.
Coats 
They just don't make coats like they used to! Nowadays, affordable coats are thinner and often aren't lined. Vintage winter coats from the 60s, 70s, 80s, and 90s are usually made from wool and have linings, pretty buttons, and maybe even a fur collar. These coats might retail for $300, but I've found these treasures for $15 to $80. Just be ready to spend some money on dry cleaning—thrift store coats especially hold in the moth ball smell—but when you're saving $100 or more, it's worth it.
Sections To Avoid
Pants 
If you're in need of a new pair of slacks or jeans, your chances of finding a pair at the thrift store are slim to none. Why? Because finding a pair of flattering pants is completely dependent upon your unique body type and height. When you're sifting through hundreds of pants from different stores and different decades, finding a size that fits and that you actually like would basically be a Sisterhood of The Traveling Pants miracle. Not to mention, pants usually get more wear and tear overall, so finding a pair in good condition is even more uncommon. To save myself the hassle and stress, I simply avoid the pants section.
T-Shirts 
Unless you're on a quest for the perfect vintage band tee, or maybe some cleaning rags, I would also suggest taking a pass on the massive t-shirt section. Thrift stores receive a high volume of tees since people tend to own tons, making the t-shirt one of the most common donations. You will find an endless amount of random personalized tees for little league baseball teams as well as plain, low-quality, worn out ones. Thrift stores typically have more shirts from the 2000s, right around the time when the fashion industry started making lower quality clothing. So unfortunately, your chances of finding a thin, misshapen, pilling top are greater than finding a high-quality tee in mint condition. 
Sweaters
Even the most seasoned thrifter balks before the sweater section. Sweaters, like coats, lock in smells. But thrift store sweaters, unlike coats, would rarely retail for several hundred dollars, so they're not worth cleaning. Sweaters made from high quality fabrics like wool, cashmere, cotton, or linen are usually in better condition and might be worth buying and cleaning a couple times. But you are more likely to find sweaters made of synthetic polyester blends that tend to be more delicate, resulting in misshapen fits and pilling, on top of retaining that thrift store—or previous owner—aroma.
Shoes
The shoe section is another gamble, since shoes receive more wear and tear than any other type of clothing. Also, finding a pair of shoes that you actually like largely depends on your personal taste. You will definitely be able to find those platform loafers from the 90s, but a classy shoe style that seamlessly blends into your wardrobe? Not an easy find. Plus, even if you do find a shoe style you want to bring home, the chances of it being in your size are slim. 
When you narrow down your search to only a few sections, you'll feel less overwhelmed by the endless sea of clothing and it'll become much easier to find a thrift store treasure of your own. Before you know it, you'll be the one saying, "Oh, this? It's vintage." 
Photo Credit: Nadine Ruiz