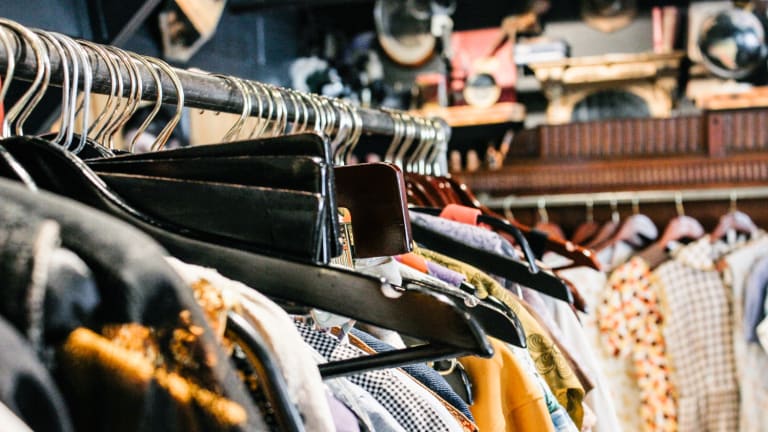 A Pro Shares Her 7 Secrets to Finding Beautiful Vintage Clothing
Becoming a master is easier than you think.
"I love your dress; where did you get it?"
"Oh, it's vintage."
Seriously, is there anything more annoying? As an admirer, you're faced with the realization that you'll never get your hands on that treasure. But it also makes us wonder: What incredible vintage wares could we find if we, too, step into the vintage unknown?
There is a challenge and mystery to vintage shopping that is both exciting and daunting, inspiring and completely overwhelming. Verily's Style Editor, Lillian Fallon, has been shopping almost exclusively vintage for the past year and a half and has experienced a complete style transformation. Through trial and error, Lillian developed a system that helps her approach vintage shopping with confidence and ease. She took me, a Verily intern who also has a love for vintage, to the Another Man's Treasure vintage shop in Jersey City to explain her best shopping tips for conquering the unusual sizes, styles, fabrics, and situations you're sure to find when you shop off the beaten path.
Ready to make your entrance into the vintage shopping world? Here's what Lillian taught me, which will help you become a pro in no time.
Know Your Measurements
Vintage sizing is nothing like modern sizing and is often much smaller than what we're used to buying in the store. Before hitting the shops, Lillian recommended we take our measurements. She explained that too many times in the past, she's tried on vintage items marked size 10 that ended up fitting like a modern size 6. "By having an idea of the width of your bust, waist, and hips, you can assess the width of the dresses and whether they will match," she explains.
Not sure how to measure yourself? Take a flexible measuring tape and wrap it directly across your breasts and around your back until the 1-inch mark (not the end—sometimes that first inch isn't quite right) meets the other side of the tape, and write down the number the 1-inch end meets. Next, wrap it around your natural waistline (the smallest part of your waist) and then the widest part of your hips (not your hip bones, but across your behind). Put a note in your phone with all the measurements so that they're handy on your shopping trip.
Get Inspired
Lillian's next tip was to load up on plenty of inspiration before shopping. Her Pinterest, in fact, is full of images of her favorite style icons in items she hopes to find herself one day. She explained that it's to give yourself a concrete idea of what you're looking for: "Do you want to emulate the feminine 1950s style of Audrey Hepburn from Sabrina? Or perhaps you're looking to copy the mod 1960s look of Mad Men? If you just want to incorporate vintage items into your everyday outfits, look to style icons such as Alexa Chung, Jenny Walton, and Jenna Lyons, who make their unique vintage finds look more modern by mixing and matching."
Take to the internet and start researching images from your favorite movies that were either filmed in the past or take place in the past. Collect images of what inspires you on Pinterest, so you can keep in mind what items you're looking out for. Better yet, download Pinterest to your phone and reference it while shopping. That way you can start identifying specific items you want to find, such as a pair of high-waisted jeans, an embroidered jacket, a silky scarf, or velvety styles.
Start with Your Priority Items
Upon entering Another Man's Treasure, Lillian took it all in—but then made a beeline to the dresses. She explained that it's best to start at your favorite section because it eases you into the experience: "Dresses are one-and-done outfits, so you don't have to get creative with separate items. Make your way around the store, section by section." Next up were skirts, shorts, and then tees.
If the idea of vintage shopping is overwhelming, try focusing on the sections of clothing that you love the most. It'll help you mentally compartmentalize, so you don't overload your brain with all the unique items you want to look through.
Be Open
While it's great to know exactly what you want, be open to unexpected items that jump out at you, even if they're not on your list. I've heard Lillian say time and again, "Vintage chooses you, and the experience is love at first sight." I expected to leave the shop with an armful of feminine dresses but ended up with a suede Kelly green vest instead. At the mall, we can find and buy exactly what we're looking for, but the best part of vintage shopping is that you can find a treasure that blows away your expectations and is greater than what you initially wanted.
Learn How to Identify the Era
One of the beauties of vintage is that it's often easily dateable because of tags, style, or fabric. Lillian advised that we start by observing the overall style—"full circle skirts and swingy A-line dresses were often worn in the 1950s, straight-up-and-down shift dresses were popular in the sixties, and maxi dresses were the seventies."
Furthermore, she explained that prints and fabrics are also helpful for identifying an item's era. For example, items from the 1950s often focused on silky fabrics, crinoline underskirts, plaid, and delicate floral prints. Items made in the 1960s often featured vibrant warm colors (orange, yellow, brown) in bold, cartoon-like prints of flowers, polka dots, and abstract shapes. The 1970s used a lot of muted, faded tones and textures such as suede, leather, and lace. Of course, the 1980s were all about intense jewel tones, neon colors, sewn-on gemstones and sequins, and shiny synthetic fabrics. I especially love 1960s styles, so I naturally gravitated toward items that had unique prints and Twiggy-worthy fits.
Check for Damages
When an item is more than 30 years old, it's often not perfect, and there might be a hidden stain or a ripped seam in the back. In the fitting room, Lillian set the example by evaluating whether her coveted items were easily fixable or a huge undertaking. She found a darling maroon 1940s dress with a few loose threads inside—nothing major.
Some damages, however, might not be worth it to you. Rips on seams, missing buttons, and fraying hems are all simple fixes, but tears in the middle of the fabric, displaced zippers, or major water stains and discolorations can be a little more complicated. Ask yourself whether the piece is worth the extra TLC or money spent on repairs.
Don't Forget Accessories
For the final step, we hit up the accessories. Vintage knickknacks might seem too tacky (imagine your grandmother's vanity covered in costume jewelry), but it's actually great for snagging items that will upgrade your outfit. Lillian's fave? The silk handkerchief drawer. We rifled through them until I discovered a one-of-a-kind English print silk scarf, which I immediately tied on à la Audrey Hepburn in Roman Holiday.
Bejeweled floral brooches instantly upgrade your blazer or winter coat (or your next DIY project), and shimmering art deco rings will have you smiling every time you look down. Accessories can seriously make an outfit, so don't forget to check them out before heading to the register.