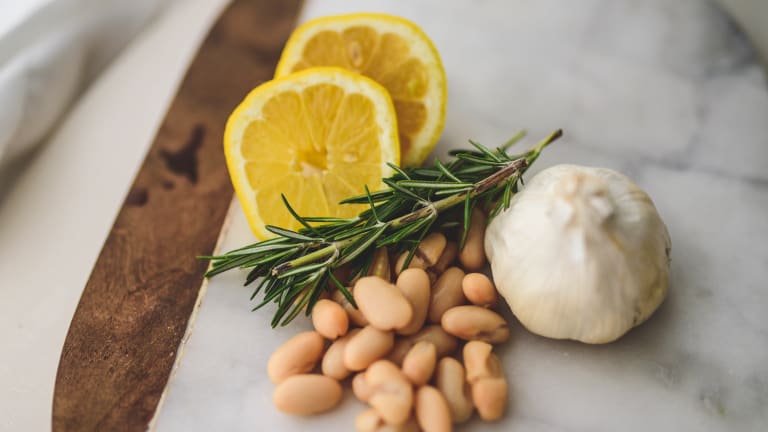 White Bean Puree with Mixed Roasted Vegetables
Though we don't necessarily think of beans as very exciting, the white bean puree is really the star of this dish. It is something unexpected—not a side of mashed potatoes or a bed of rice. It is smooth and flavorful and rich—yum! Roast the garlic the day before or over the weekend and this meal will come together very quickly. If you would like, you could serve this with just about any meat/fish—pork, chicken, beef, salmon. So many options!
Note: For the Parmesan cheese shavings: You can buy these, or you can buy a brick of Parmesan cheese and then use a vegetable peeler to slice little shavings off. 
Paleo: Omit beans and replace with cauliflower mashed "potatoes." Use sage, rosemary, garlic, and lemon juice instead of recipe's suggested seasonings. Use nutritional yeast for Parmesan shavings. 
Ingredients
White Bean Puree
4 (15 oz) cans white cannellini beans, drained

3 large garlic heads, unpeeled

4 Tbsp olive oil

4 c low-sodium chicken broth

1 tsp dried sage

1 Tbsp chopped fresh rosemary

1 Tbsp chopped garlic

2 Tbsp fresh lemon juice
Mixed Roasted Vegetables
1 pint grape tomatoes

2 medium zucchini, sliced into ¼ inch pieces

1 onion, cut into 1-inch pieces

1 red pepper, cut into 1-inch pieces

1–2 Tbsp olive oil

1 Tbsp fresh, chopped rosemary

Salt and pepper

Parmesan cheese shavings
Preparation
For the white bean puree:
Preheat oven to 350°. Lay out a double thickness of aluminum foil 1 foot long. Slice off the tops of the garlic heads and place the garlic heads in a row down the center of the foil. Drizzle with 1 tablespoon oil. Wrap the garlic bulbs up in the foil. Bake until garlic is very tender and golden brown, about 1 hour. Remove garlic from oven. When the garlic is cool, squeeze the heads to remove the roasted garlic cloves.
Place beans, broth, sage, rosemary and 1 tablespoon chopped garlic in large pot. Bring to boil. Reduce heat and simmer, uncovered, until beans are heated through and tender, about 15 minutes. Drain beans, reserving cooking liquid.
Add beans, roasted garlic, remaining 3 tablespoons oil, and lemon juice in a food processor (or blend with an immersion blender) and blend until coarse puree forms.
Thin to desired consistency with some reserved cooking liquid. Season with salt and pepper.
For the mixed roasted vegetables:
Preheat oven to 425°. Place all vegetables on a large cookie sheet and drizzle with olive oil. Sprinkle with rosemary, salt, and pepper.
Roast in the oven for 15–20 minutes or until tomatoes begin to burst and vegetables are browned.
Serve the white bean puree topped with the mixed roasted vegetables and Parmesan shavings.