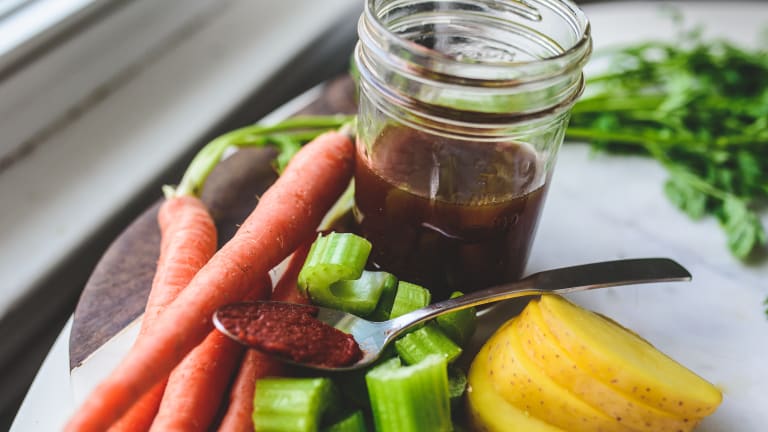 Vegetable Soup
There are no fancy ingredients in this soup, but the herbs give it a really rich and hearty flavor. Every time we eat this we proclaim how much we love it!
Paleo: Swap white potatoes for sweet potatoes (if desired). 
Ingredients
2 quarts box vegetable broth

2 cup canned, diced tomatoes

2 small-medium potato, peeled and cut into about ½ inch cubes

2 carrots, peeled and diced

1/2 onion, chopped

2 cups frozen mixed vegetables

2 stalks celery, chopped

6 oz. tomato paste

~ 2 tsp. Kosher salt

Black pepper

~ 2 tsp. dried oregano

~ 2 tsp. dried basil

~ 2 tsp. dried thyme

**Add more seasonings to taste.
Preparation
Slow Cooker Directions:
1. Add all ingredients to slow cooker and stir.
2. Cook on high for 4-5 hours or low for 7-8 hours, or until potatoes and other vegetables are tender.
Stovetop Directions:
1. Bring broth and diced tomatoes to a boil in a large saucepan.
2. Add vegetables and seasonings.
3. Add tomato paste.
4. Simmer 30 minutes – 1 hour, or at least until potatoes and carrots are cooked.