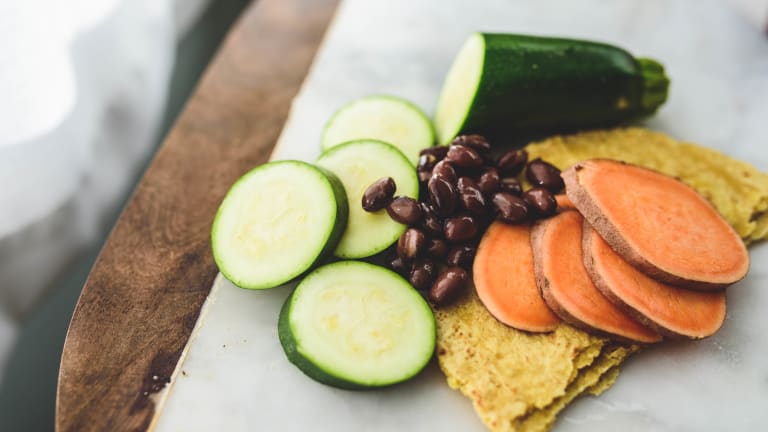 Sweet Potato-Zucchini-Bean Enchiladas
I love using salsa as enchilada sauce. You can experiment and try different kinds of salsa—you could use salsa verde or hot salsa, depending on what you feel like. These take a little time to put together, but every step is easy. Prep these on the weekend and you will have a ton of leftovers for the upcoming week.
Paleo: Omit beans and add more vegetables if desired; use homemade tortillas or serve over cauliflower rice; omit cheese.
Duration

Cook Time

Prep Time

6-8

Servings
Ingredients
1 large sweet potato, diced into ¼-inch cubes

2 medium zucchini, diced into ¼-inch cubes

2 Tbsp olive oil

1 tsp chili powder

1 tsp cumin

1 tsp smoked paprika

1 tsp salt

½ tsp freshly ground pepper

1 can pinto beans, drained and rinsed

1 c shredded cheddar cheese

16 oz can salsa

8 oz can tomato sauce

10 medium flour or corn tortillas (this will probably fill more than 10 corn tortillas)
Preparation
1. Preheat oven to 425°.
2. Combine chili powder, cumin, smoked paprika, salt, and pepper in a small bowl.
3. Place sweet potatoes and zucchini on a large baking sheet. Drizzle with olive oil and then sprinkle with the spice mixture from the small bowl. Toss together to coat. Place baking sheet in oven and roast for 25-30 minutes or until browned, tossing once halfway through.
4. Combine the salsa and tomato sauce in a small bowl. Place about ½ cup of this mixture in the bottom of a 9 x 13 glass pan sprayed with cooking spray (just enough to make a thin layer on the bottom of the pan).
5. To assemble the enchiladas, top each tortilla with about 2 tablespoons of the sweet potato-zucchini mixture and 1-2 tablespoons of beans, then roll up.
6. Place each enchilada seam-side down in the baking dish. Top the enchiladas with the remaining salsa sauce and sprinkle with the shredded cheese.
7. Place the enchiladas in the oven and bake for about 20 minutes or until sauce is bubbling and cheese is melted. If the cheese is getting too brown, cover with foil.