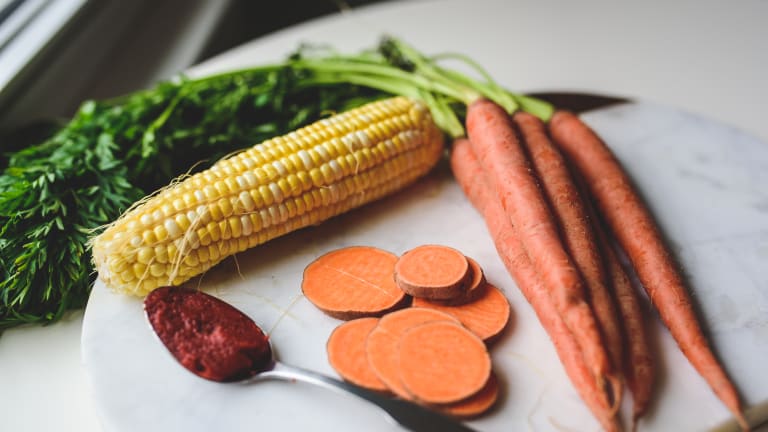 Sweet Potato Shepherd's Pie
Vegetarian: Omit ground beef or swap for chickpeas or other beans.
Paleo: Omit corn.
Ingredients
Sweet Potato Layer
4 large sweet potatoes

2 Tbsp olive oil

2 cloves garlic, crushed

Pinch crushed red pepper (optional)

½ tsp salt
Filling
2 Tbsp olive oil

Onion, diced

3 cloves garlic, crushed

2 c celery, diced (about one bunch)

5 medium carrots, chopped

1 lb ground beef

1 c corn kernels, fresh or frozen

1 tsp salt

2 tsp oregano

2 tsp cumin

1 6 oz can tomato paste

½ c water or broth

1 Tbsp parsley (optional)
Preparation
Preheat oven to 350. Bake sweet potatoes on cookie sheet covered in tin foil, approximately 1 hour. (Shortcut: Microwave for 4-6 minutes, rotating sides periodically. When softened, place in oven to complete cooking.) Potatoes are done when fork easily pierces flesh.
Let cool. Spoon out flesh into mixing bowl. Add spices and mash until smooth. Add a few drops of milk if needed. Season to taste.
In medium saucepan over medium heat, add oil. When heated, add onion, garlic, carrots, and celery. Cook until soft. Add ground beef, using spatula to break apart. Add corn and filling spices. Mix and cook until beef is no longer pink, about 5-7 minutes. Add tomato paste and water and stir. Cook for a few minutes more. Season to taste.
Place beef mixture into casserole dish. Add sweet potato to top and smooth out to cover filling.
Bake for 30-40 minutes until heated through and topping is slightly crisped.
Garnish with parsley.