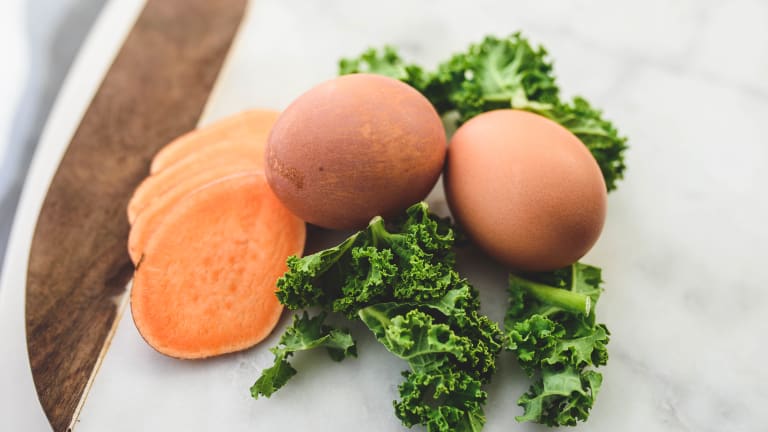 Sweet Potato-Kale Hash and Eggs
Hash is a wonderful comfort food, perfect for breakfast or dinner. The addition of kale makes this dish a nutritional powerhouse. Make sure the eggs stay a little runny, so they can be a delicious sauce for the hash. Add a couple more eggs to the top if anyone wants an extra.
Paleo: Omit feta.
Ingredients
2 medium sweet potatoes, cubed

2 cloves garlic, minced

3 c kale, chopped

2 Tbsp olive oil

1 tsp dried oregano

1 tsp dried basil

1 tsp salt

Black pepper

4 oz crumbled feta

4 eggs
Preparation
1. Place cubed sweet potatoes and a little water in a medium glass bowl or casserole dish and cover with a tight-fitting lid. Microwave for 3 minutes to pre-cook the sweet potatoes.
2. Preheat the broiler on high.
3. In a large ovenproof or cast-iron skillet, heat the olive oil over medium heat. Add the sweet potatoes, garlic, oregano, basil, salt and pepper.
4. Sauté for about 10-12 minutes, stirring occasionally until the sweet potatoes are tender and browned. Add the kale and sauté another 3-4 minutes, until kale is slightly wilted.
5. Stir in 2 ounces of the feta. Crack each egg on top of the hash and sprinkle with the remaining cheese.
6. Broil on high for 4-6 minutes until the egg whites are solid (just set). Serve.