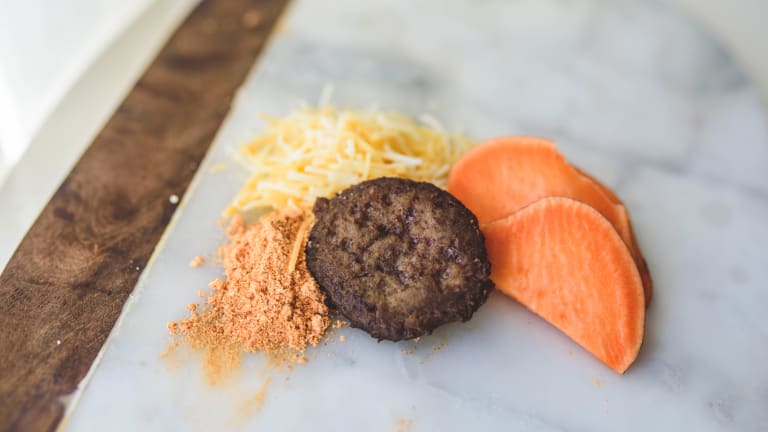 Sweet Potato Foil Pocket Tacos
These foil pockets have the classic flavor of tacos, but with sweet potatoes, beans, and kale, they are so full of vitamins and nutrients. This is an all-in-one kind of meal. Kids may have fun creating their own pocket or you can make one big pocket and divide it up for serving. This works as a taco filling, but in my opinion, there's no need for a tortilla!
Vegetarian: Omit ground turkey.
Paleo: Omit black beans and add more meat or another vegetable like peppers, if desired. Omit cheese.
Duration

Cook Time

Prep Time

6

Servings
Ingredients
1 Tbsp olive oil

½ lb ground turkey

2 Tbsp taco seasoning

½ c tomato sauce

15 oz can black beans, drained

6 c sweet potatoes, peeled and cut into ½ inch cubes

1-½ c chopped kale

1-½ c shredded cheddar cheese

Tortillas, if desired

Toppings: Sour cream, salsa, cilantro, and/or guacamole (add whichever ones you'd like)
Preparation
1. Preheat oven to 425°.
2. Add olive oil to a medium skillet. Add ground turkey and cook until browned, then add taco seasoning and tomato sauce and simmer for 5 minutes.
3. For the foil pockets, you can make fun, individual foil pockets or make one or two large pockets. For each pocket, lay out one piece of foil, and layer it in the following order: sweet potatoes, black beans, turkey taco meat, kale, cheese. Top with another piece of foil and crimp the sides so it is sealed into a pocket.
4. Place pockets on a rimmed cookie sheet and bake for 25-30 minutes. Check one pocket to ensure that the sweet potatoes are cooked through.
5. Serve in tortillas, if desired, and top with the toppings of your choice.