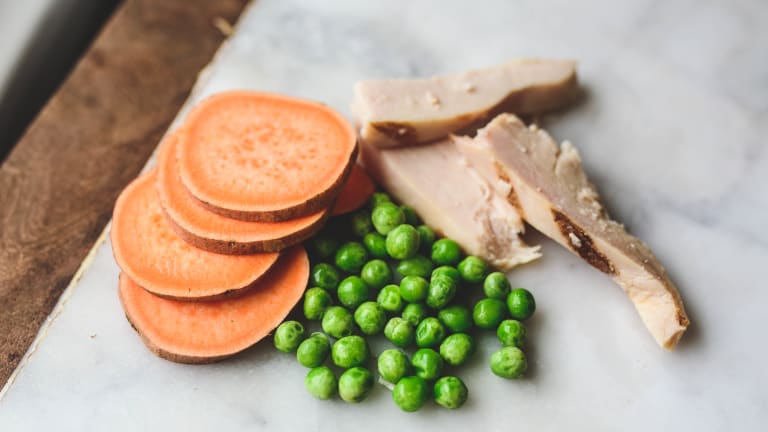 Sweet Potato Curry with Chicken
This is an excellent basic curry recipe. It is action-packed, full of flavor, and full of veggies. If you need to buy some spices for this recipe, I recommend buying the bulk bags that you can often buy at your grocery store. You will save a lot of money!
Vegetarian: Omit chicken; add entire can of chickpeas and increase the amount of sweet potatoes and/or green peas, if desired.
Paleo: Replace chickpeas with additional 1 cup of green peas; omit rice. 
Duration

Cook Time

Prep Time

6

Servings
Ingredients
2 tsp curry powder

1 tsp ground coriander

1 tsp ground turmeric

½ tsp salt

½ tsp black pepper

¼ tsp red pepper flakes

2 Tbsp olive oil, divided

1 lb boneless, skinless chicken breasts, cut into 1-inch pieces

1 medium onion, thinly sliced

1 ½ tsp fresh ginger, minced

2 garlic cloves, minced

1 ½ c chicken or vegetable broth

1 can diced tomatoes, undrained

2 small-medium sweet potatoes, cut into ¼-inch cubes

¾ c canned chickpeas, drained and rinsed

½ c frozen green peas

1 Tbsp fresh lemon juice

Cooked jasmine rice, for serving
Preparation
1. Combine curry powder, coriander, turmeric, salt, pepper, and red pepper flakes in a small bowl.
2. Heat 1 Tbsp olive oil in a Dutch oven or large saucepan over medium heat. Add the chicken to the pan and cook about 6-8 minutes, or until chicken is cooked through and browned. Remove from pan.
3. Add additional 1 Tbsp of oil to the pan and add the onion. Cook for about 10 minutes, stirring often, until onion is slightly browned and softened.
4. Return chicken to the pan and add the ginger and garlic and cook until fragrant. Then add the spice mixture from your small bowl. Cook for 2-3 minutes, stirring.
5. Add broth and tomatoes and bring to a boil. Cover, reduce heat to low, and simmer for about 10-15 minutes to allow the flavors to meld together. Then add the sweet potatoes, chickpeas, and green peas, and cook, uncovered, for 15-20 minutes, or until the sweet potatoes are tender.
6. Remove from heat and add the lemon juice. Serve over jasmine rice.