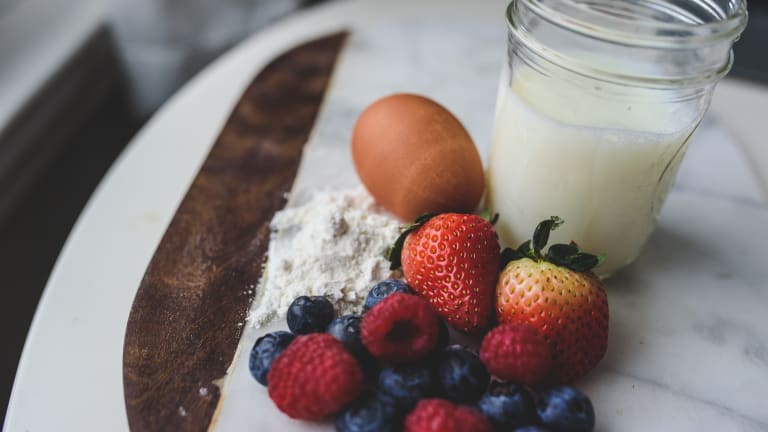 Swedish Pancakes with Mixed Berries
This is a treasured recipe from my childhood. Swedish Pancakes are a bit like crepes, just smaller. They are very thin, so it's okay to eat a lot. In my family, we all go back for seconds, thirds, fourths,…
Gluten-Free: Use gluten-free flour (we recommend quinoa flour for a 1-to-1 with this recipe, or use the Paleo version below. Please note that almond flour/meal and coconut flour do not work as a 1-to-1 with this recipe). 
Paleo: Use 1/3 cup Tapioca flour + 3 TBSP coconut flour, 1 cup full-fat coconut milk, and ghee instead of flour, milk, and butter.
Duration

Cook Time

Prep Time

4-6

Servings
Ingredients
3 eggs

2 cups milk

1 cup flour

6 TBSP butter, melted

½ tsp salt

Sugar & cinnamon or maple syrup, to top pancakes



Preparation
Beat eggs with ½ cup of milk for 2-3 minutes with a beater or whisk.
Add the flour all at once and beat to a smooth consistency.
Beat in the remaining milk, the melted butter, and salt. *NOTE: Batter will be very thin.*
Heat oven to warm.
Heat a skillet or griddle pan with a small amount of oil over medium-high heat.
Pour batter onto pan to make pancakes with about a 3-4 inch diameter. (The batter is thin, so if it spreads too much, turn up the heat on your pan a little). When edges brown lightly after about one minute, turn over and cook for another minute or two.
Place pancakes on an oven-safe plate and put in the oven to keep warm.
Repeat and continue cooking in batches. They cook quickly, but it will take a lot of little batches to cook up all the batter.
Sprinkle pancakes with sugar and cinnamon or drizzle with a little maple syrup and roll them up to eat (that's how we do it anyway – my kids call them "roll-up pancakes").
Mix together berries in a small-medium bowl. Serve alongside the pancakes.