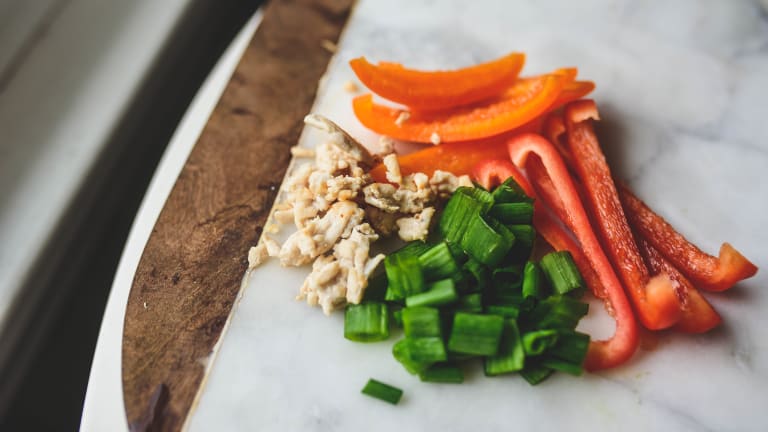 Stuffed Pepper Stew
This stew is like a deconstructed stuffed pepper. It's healthy and full of flavor and less work than putting together stuffed peppers.
Vegetarian: Omit ground turkey and ground beef; add 1 diced zucchini when cooking the peppers and 2 (15 oz) cans cannellini beans when adding the diced tomatoes.
Paleo: Omit white rice and use zucchini noodles, if desired.
Duration

Cook Time

Prep Time

6

Servings
Ingredients
2 Tbsp olive oil

3 whole bell peppers (red, yellow, or orange), chopped

1 lb lean ground turkey

1 lb lean ground beef

¾ c chopped green onions

2 cloves garlic, minced

1 tsp salt

1 ½ tsp oregano

1 ½ tsp basil

½ tsp thyme

2 (14.5 oz) cans diced fire roasted tomatoes

1 c tomato sauce

¾ c water

3 c cooked white rice

Grated Parmesan cheese, for serving (optional)
Preparation
1. Heat olive oil in a large skillet over medium heat. Add chopped bell peppers and cook about 5 minutes, until slightly tender.
2. Add the turkey and beef and cook for about 5 minutes and then add the green onions, garlic, salt, oregano, basil, and thyme. Cook until the meat is browned and no longer pink.
3. Add the diced tomatoes, tomato sauce, and water, and simmer for 15 minutes to allow the flavors to meld together.
4. Cook rice as indicated on package.
5. When serving, place ¼ - ½ cup rice in the bottom of each serving bowl and ladle the stew over the top. Sprinkle with Parmesan cheese, if desired.