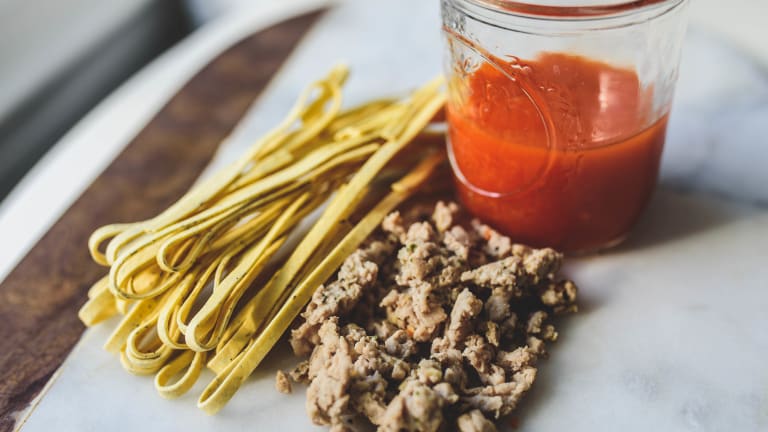 Sriracha Noodles
With only a few basic ingredients, these noodles really pack a flavor punch! Mom hack—if your kids complain about spicy food like mine do, you could make them a small batch with just pork, spinach, linguine, and a drizzle of soy sauce.
Gluten-Free: Use gluten-free pasta noodles and tamari sauce, instead of soy sauce.
Paleo: Use zucchini noodles or spaghetti squash noodles. Use coconut aminos, instead of soy sauce.
Vegetarian: Omit pork and replace with tofu, if desired. 
Duration

Cook Time

Prep Time

4

Servings
Ingredients
16 oz linguine

2 tsp olive oil

16 oz ground pork (or ground turkey)

4 Tbsp soy sauce

2 Tbsp balsamic vinegar

2 Tbsp Sriracha sauce

8 oz bag spinach
Preparation
1. Cook the linguine according to package instructions.
2. In a 12-inch skillet, heat 2 teaspoons of olive oil over medium heat. Add ground pork to the pan and cook until browned.
3. Whisk together the soy sauce, balsamic vinegar, and Sriracha. Add to the pan and stir, then add the spinach. Cook 3-5 more minutes until the spinach has wilted, stirring occasionally.
4. Toss the pork and spinach mixture with the cooked noodles.