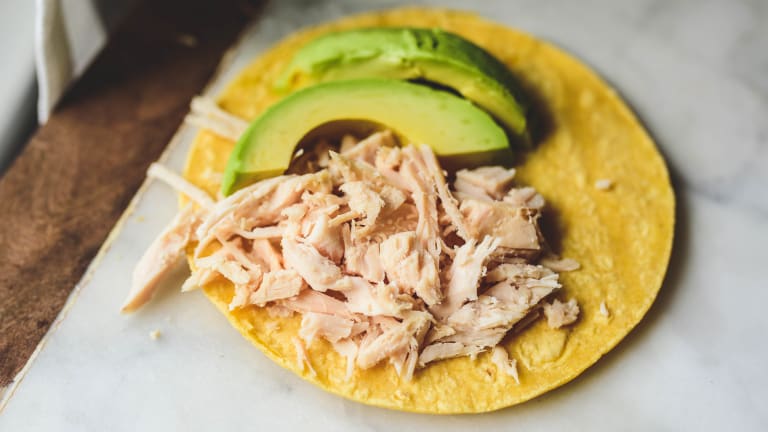 Spicy Chicken Tacos
These tacos are one of my husband's favorite meals. You can use shredded chicken or turkey (a great use for leftover Thanksgiving turkey at that time of the year) or even ground beef or ground turkey. The sauce is unique—a ton of amazing flavors!
Vegetarian: Substitute 2 cans of pinto beans for chicken, smashing some of them for added texture. Add just enough mole to make them slightly saucy (you don't want them too liquidy).
Paleo: Use Paleo-friendly tortillas. 
Duration

Cook Time

Prep Time

4

Servings
Ingredients
Chicken Filling:
2 Tbsp olive oil, divided

½ medium onion, peeled and roughly chopped

2 garlic cloves, roughly chopped

1 chipotle pepper + ½ teaspoon adobo sauce (from a can of chipotle peppers in adobo sauce)

⅓ c chicken broth (or vegetable broth)

⅓ c orange juice

2 Tbsp apple cider vinegar

½ tsp ground cumin

½ tsp dried oregano

½ tsp ground cayenne pepper

¼ tsp salt

¼ tsp ground cinnamon

¼ tsp black pepper

2 c shredded cooked chicken (or turkey)
Extras and Toppings:
8 corn or flour tortillas

1 avocado, diced

Shredded lettuce

Thinly sliced radishes

Sour cream

Lime wedges
Preparation
1. Heat a little olive oil in a small nonstick skillet. Add onion and garlic to the pan and cook until onion is becoming translucent.
2. To prepare the mole sauce: Remove one chipotle pepper from the can and finely dice. Measure 1 ½ tsp of the pepper and reserve ½ tsp of the adobo sauce from the can. Add chipotle pepper and adobo sauce to a blender or small food processor. Add chicken broth, orange juice, apple cider vinegar, and seasonings. Add onion and garlic from pan. Process until smooth (may not be completely smooth, and that's okay!).
3. Heat 1 tsp olive oil in a medium nonstick skillet. Add chicken to pan; sauté 2-3 minutes. Add mole and cook 4-6 minutes or until liquid is mostly absorbed, stirring occasionally.
4. Heat tortillas. Spoon the chicken down the center of each tortilla and top with desired toppings.