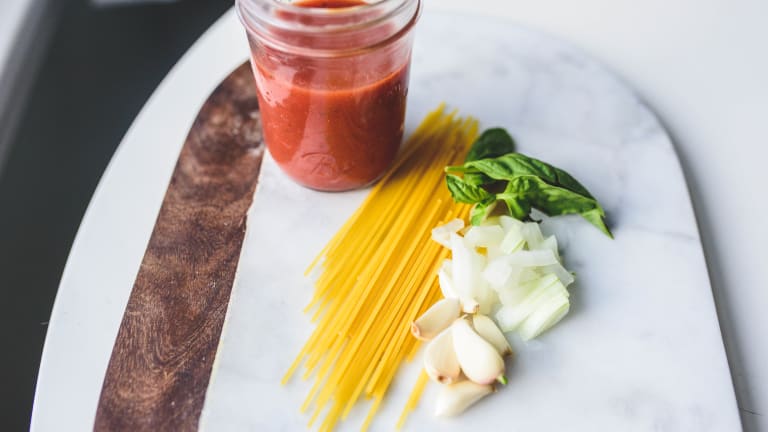 Spaghetti with Marinara and Italian Sausage
Straight up, classic spaghetti. It is so easy to make your own marinara sauce—you might never go for the jar again!
Paleo: Use zucchini noodles instead of spaghetti.
Vegetarian: Omit Italian sausage. If desired, replace with cooked peas or cannellini beans.
Gluten-free: Use your favorite gluten-free spaghetti.
Ingredients
1 lb. spaghetti

1 lb. ground Italian sausage

Olive oil

1 onion, chopped

2 cloves garlic, minced

1 cup red wine

2 15 oz. cans + 1 8-oz can tomato sauce

1 pkg fresh basil, chopped

1/2 tsp sugar (or more, to taste)

Salt and pepper
Preparation
1. Brown Italian sausage and set aside.
2. In a medium skillet or saucepan over medium heat, add 1 Tbsp olive oil. Add onion and garlic to oil and sauté until onion is translucent and soft.
3. Increase heat to medium-high and add the red wine. Bring to a boil and cook about 3-5 minutes, until wine has somewhat reduced. Add tomato sauce, basil, salt, pepper, and sugar. Add cooked Italian sausage. Simmer for at least 15-20 minutes.
4. Boil spaghetti according to package instructions. Drain and plate with marinara sauce. Top with Parmesan cheese, if desired.