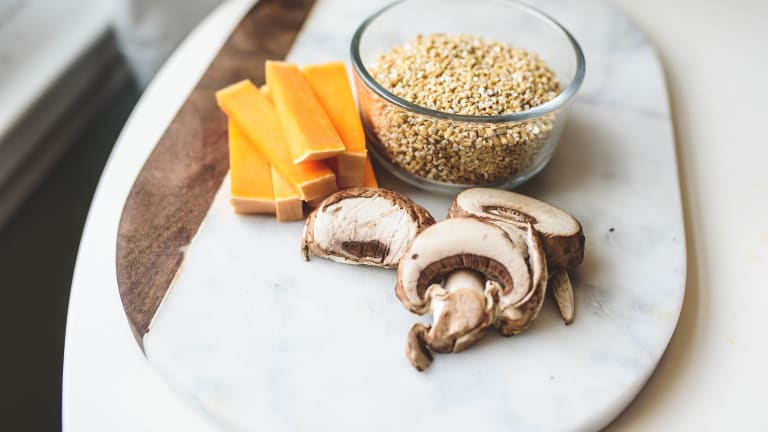 Savory Steel Cut Oatmeal
Who said oatmeal had to be sweet? This savory steel cut oatmeal is a perfect breakfast-for-dinner meal. With the mushrooms and cheese, it tastes more like a delicious, comforting risotto than traditional oatmeal.
When reheating leftovers, add 1-2 Tbsp water to each serving before microwaving.
Ingredients
1 ½ c steel cut oats

1 qt (4 c) chicken or vegetable broth

1 ½ c water or almond milk

3 c butternut squash, diced (about 1 lb)

10 oz baby bella mushrooms, washed and sliced (3-4 c)

¼ c chives, diced

2 cloves garlic, minced

Salt and pepper, to taste

1 c shredded Swiss Gruyere cheese, plus more for serving

1 Tbsp butter

Eggs (1 per person)
Preparation
Combine all ingredients in slow cooker except cheese, butter, and eggs and stir.
Cook on high for 3 hours, stirring periodically if possible to keep oatmeal from sticking to sides of the slow cooker.
When oatmeal is finished cooking (oats should be cooked and liquid mostly absorbed), turn off slow cooker and stir in 1 c shredded cheese.
In a frying pan, heat 1 Tbsp butter. Crack one egg for each person you're serving. When the whites have mostly set, flip each egg. Cook to desired doneness.
Ladle oatmeal into bowls, topping each portion with a fried egg and extra shredded cheese.