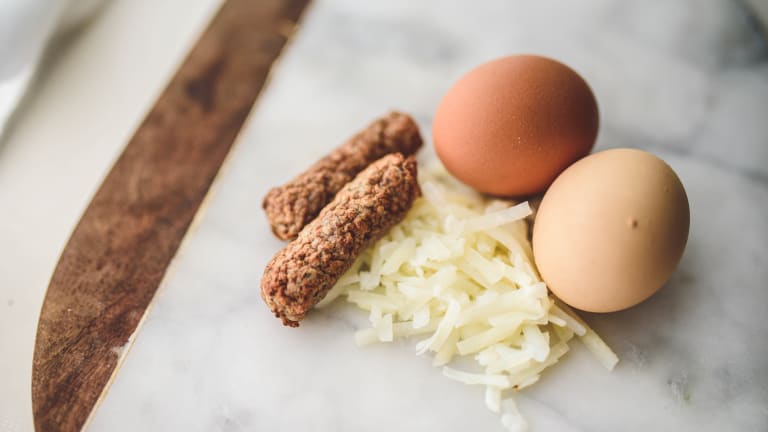 Sausage and Hash Brown Egg Bake
Egg bake is a staple at nearly any Midwestern brunch. When my fourth child was born, I remember receiving an egg bake from a friend as a meal. It was such a perfect thing to bring for a family with a new baby because it could serve as breakfast, lunch, or dinner. This batch meal will provide you with plenty of leftovers—you decide which meal to eat them for!
Note: You can prepare the egg bake ahead of time and refrigerate it (covered) until you're ready to bake it.
Vegetarian: Omit sausage; add additional zucchini or red pepper, if desired.
Paleo: Use shredded sweet potatoes and coconut milk for hash browns and milk; omit cheese. 
Duration

Cook Time

Prep Time

6–8

Servings
Ingredients
1 lb ground breakfast sausage

1 medium zucchini, diced

1 red pepper, diced

1 (30–32oz) bag frozen shredded hash browns

1 tsp salt

½ tsp pepper

½ tsp garlic powder

2 c shredded cheddar cheese

8 eggs

2 c milk
Preparation
1. Preheat oven to 350.
2. In a large skillet over medium heat, add the breakfast sausage and cook about 3–4 minutes. Add the zucchini and red pepper. Cook until the sausage is no longer pink and the zucchini and red pepper are browned and tender. Remove sausage mixture from pan.
3. Add hash browns to the hot pan and cook until lightly browned, stirring occasionally.
4. Whisk together eggs, salt, pepper, garlic powder, and milk.
5. Spray a 9x13 pan with cooking spray and place the hash browns in the bottom of the pan. Top with the sausage and vegetable mixture and the shredded cheese. Pour the egg mixture over the top.
6. Bake, uncovered, for 35–40 minutes or until the eggs are set.