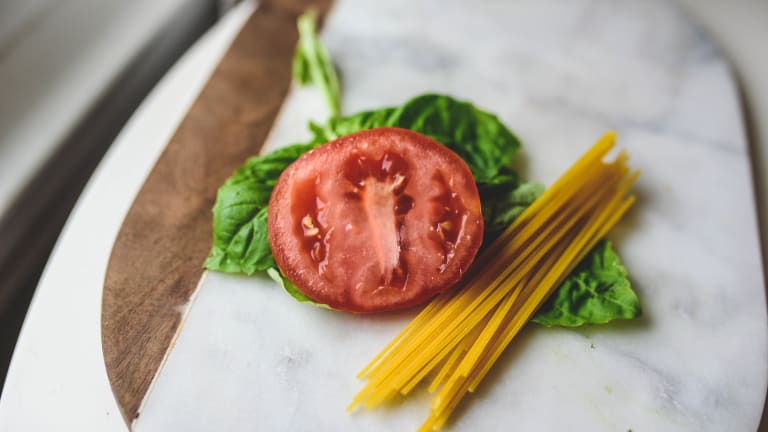 Roasted Tomato Spaghetti
This pasta is great any time of year, but I especially love it in the summer, when tomatoes are aplenty. This dish looks and tastes impressive, but it couldn't be easier. I recommend serving it with a nice, big salad and some crusty bread. Feel free to top it with a little Parmesan.
Gluten-free: Use gluten-free spaghetti.
Paleo: Use spaghetti squash or zucchini noodles. 
Ingredients
2 pints grape tomatoes

5 cloves garlic (3 thinly sliced, 2 crushed)

1 package fresh basil, chiffonaded, divided

3-4 Tbsp olive oil, divided

Salt and pepper

1 lb spaghetti
Preparation
1. Preheat oven to 400°. Place tomatoes on a large baking sheet. Drizzle with 2-3 tablespoons olive oil and add garlic, most of the basil, a liberal sprinkle of salt, and pepper. Roast for about 20 minutes or until tomatoes burst.
2. Bring a large pot of water to a boil and cook the spaghetti to al dente (according to package instructions). Before draining the pasta, remove 1 cup pasta cooking water. Drain pasta.
3. Toss the spaghetti with the tomatoes and add a little cooking water and/or olive oil to coat the noodles well (it shouldn't be dry).
4. Pour pasta into a serving bowl and top with the remaining basil.