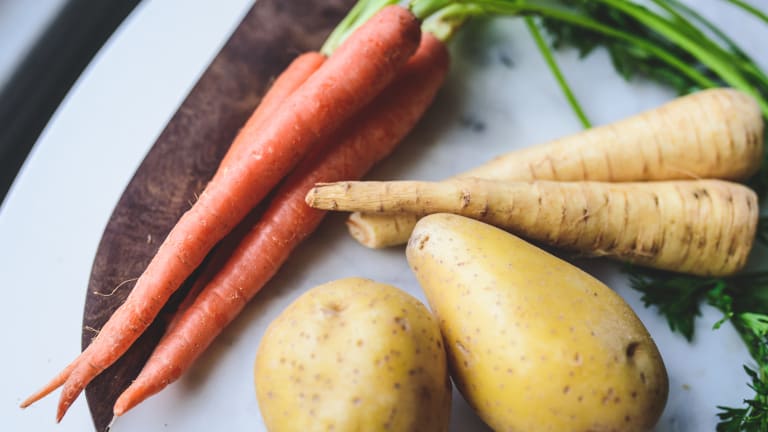 Roasted Pork Tenderloin & Root Vegetables
Nothing beats a one-pan meal! If you have never tried parsnips, get ready to fall in love.
Paleo: Substitute gold potatoes for sweet potatoes, if desired.
Duration

Cook Time

Prep Time

4-6

Servings
Ingredients
2 lb. pork tenderloin

2 TBSP. Dijon or brown mustard

2 tsp. dried rosemary

2 tsp. Kosher salt

Ground black pepper

4 TBSP. olive oil, divided

8 carrots, peeled and cut into ¼ inch diagonal pieces

8 parsnips, peeled and cut into ¼ inch diagonal pieces

2-3 large Yukon gold potato, cut into ¼ inch cubes

Salt & pepper
Preparation
1. Preheat oven to 425°.
2. Rub the pork tenderloin with the mustard and sprinkle with rosemary, salt, and pepper. Place pork tenderloin in the middle of a sheet pan.
3. Place carrots, parsnips, and potatoes around the pork tenderloin. Drizzle vegetables with olive oil and season generously with salt and pepper.
4. Place the sheet pan in the oven and roast the pork and vegetables for approximately 25 minutes, stirring vegetables once throughout. Cook until pork reaches a temperature of 145° and vegetables are tender and browned.