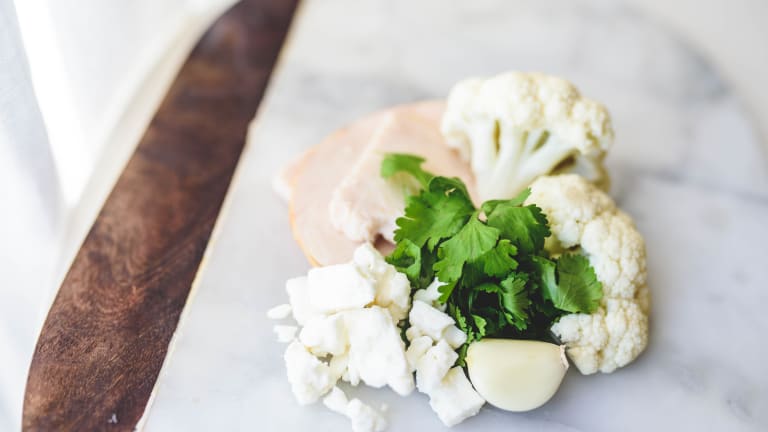 Roasted Chicken & Vegetables with Feta Pesto
In my house we affectionately refer to this sauce/dip as simply "green stuff." A good sauce can really make a simple meal sing. This meal is so easy, but the bold flavor in the sauce will surely impress your guests! Leftover "green stuff" can be eaten on veggies, on a sandwich, on eggs… the options are endless!
Vegetarian: Omit chicken; add more vegetables or alternative protein of choice.
Paleo: Use Paleo-friendly pesto. Omit feta.
Duration

Cook Time

Prep Time

4

Servings
Ingredients
Main Dish
1.25 lb boneless, skinless chicken thighs, cut into 1-inch cubes

½ head cauliflower, cut into thin florets

1 medium zucchini, sliced diagonally into ¼ inch pieces

1 red pepper, cut into 1-2 inch pieces
Feta Pesto
1 c cilantro (leaves and stems)

1 garlic clove, crushed

½ c crumbled feta cheese

¼ c olive oil
Preparation
1. Preheat oven to 375°. Line a large baking sheet with foil and spray foil with cooking spray.
2. Place chicken and vegetables on foil-lined baking sheet. Roast until veggies are slightly browned and chicken is cooked through, about 30 minutes.
3. For the Feta Pesto, place cilantro, garlic, and feta in a food processor (or use an immersion blender). Pulse until combined.
4. Slowly drizzle in olive oil in a steady stream and process until smooth. The pesto will be thick and creamy.
5. Serve the chicken and vegetables with the feta pesto.