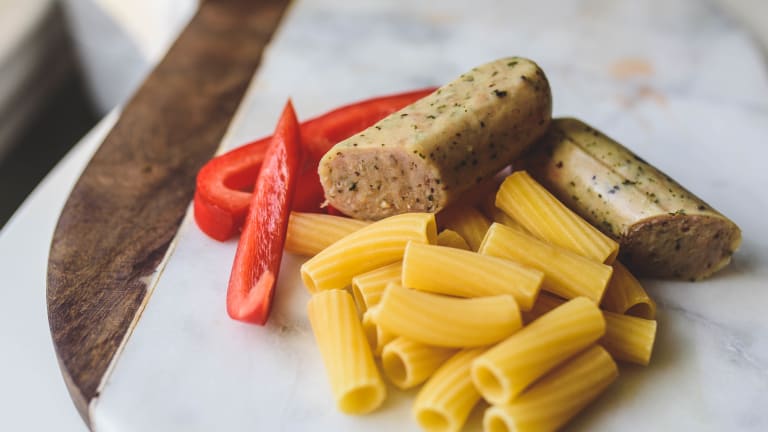 Rigatoni with Sausage and Peppers
The Marsala wine in this is lovely. If you don't have any, you could use a different red wine or beef broth, but I strongly recommend the Marsala. Marsala can be found by the cooking wines in the liquor store.
Gluten Free: Use gluten-free pasta.
Paleo: Use zucchini noodles, sliced thick. Use organic, sugar-free tomato paste. 
Vegetarian: Omit sausages and add an extra pepper or mushrooms, if desired.  
Duration

Cook Time

Prep Time

4-6

Servings
Ingredients
2 Tbsp olive oil

1 lb sweet Italian sausage links

1 red bell pepper, sliced

1 orange or yellow bell pepper, sliced

1 yellow onion, sliced

1 tsp salt

1 tsp freshly ground black pepper

4 garlic cloves, chopped

½ tsp dried oregano

1 tsp dried basil

2 Tbsp tomato paste

1 c Marsala wine (or other red wine – though the Marsala is really tasty!)

1 (14.5 oz) can diced tomatoes, with juice

1 lb rigatoni pasta

Parmesan cheese for garnish (optional)
Preparation
1. Heat oil in a large skillet over medium heat. Add the sausage links and cook until brown on all sides and no longer pink, about 10-12 minutes. Remove sausages from pan.
2. Keeping pan over medium heat, add bell peppers, onions, salt, and pepper and cook until golden brown, 5-7 minutes.
3. Add the garlic, oregano, and basil and cook for another 2 minutes.
4. Add the tomato paste and stir, then add the Marsala, and tomatoes. Continue stirring to combine and bring to a simmer.
5. Cut the sausages into 1-inch pieces and then add the sausage pieces to the pan. Simmer uncovered until the sauce has thickened slightly, about 15-20 minutes.
6. While the sauce simmers, bring a large pot of salted water to a boil. Add the rigatoni and cook to al dente, about 8 to 10 minutes.
7. Drain pasta and add to the sauce; toss to combine.
8. Serve with parmesan, if desired.