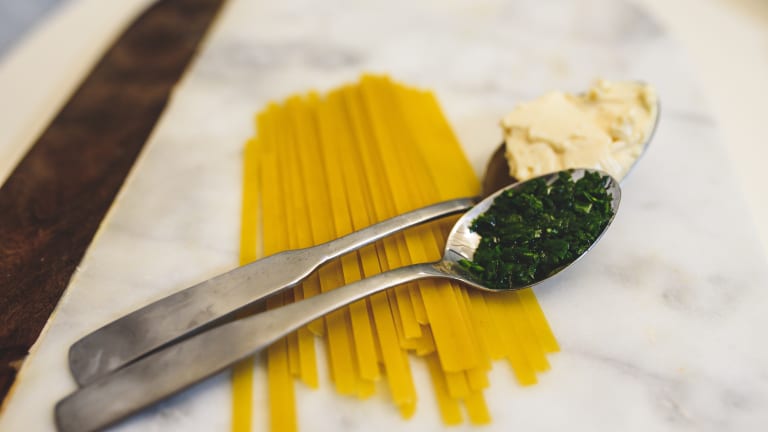 Ricotta Pesto Fettuccine
Easy and fresh! Ricotta cheese is creamy and rich, but doesn't end up feeling heavy, which makes it a perfect treat. If you have frozen green beans, you could definitely use those instead.
Gluten-free: Use gluten-free fettuccine. 
Ingredients
16 oz fettuccine pasta

1 ½ c fresh green beans, cut into 1-inch pieces

2 c frozen corn kernels

1 15-oz container part-skim ricotta cheese

1 c diced Roma tomato (about 2 tomatoes)

1 Tbsp olive oil

1 Tbsp white wine vinegar

½ tsp dried oregano

1 6-8 oz jar of pesto

Salt and pepper

¼ c grated Parmesan cheese, for garnish (optional)
Preparation
1. Bring water to a boil in a large pot or Dutch oven.
2. In a small bowl, combine the tomato, olive oil, vinegar, oregano, and a sprinkle of salt and black pepper. Set aside.
3. Once the water is boiling, add the fettuccine, green beans, and corn. Cook for approximately 8 minutes, or until fettuccine is cooked to al dente and the green beans are tender.
4. Reserve 2 cups pasta cooking water and then drain fettuccine and vegetables in a colander.
5. Add pasta and veggies back to the pan and turn heat to medium-low. Pour the tomato mixture on top of the pasta and veggies, stir to combine.
6. Add ricotta and pesto (start with ½ jar of pesto and add more to taste). Thin the sauce with some reserved pasta water if needed. Toss until heated through.
7. Serve topped with parmesan cheese,.