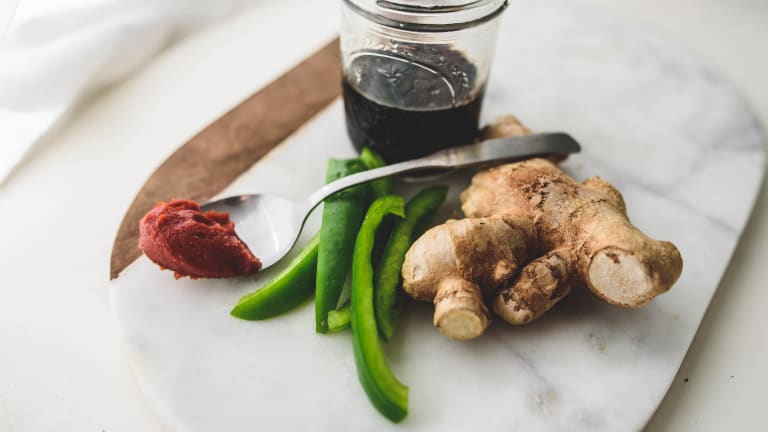 Red Curry Chicken Soup
Coconut milk and red curry paste are a perfect pair. Anytime they are combined, I know I'm going to love whatever it is I'm making. This soup has a little bit of chopping, but if you get everything chopped up beforehand, it will come together quickly.
Vegetarian: Omit chicken; add 2 cups snow peas (instead of 1), 1 more bell pepper, and/or another vegetable.
Paleo: Omit brown sugar. Use zucchini noodles for rice noodles. Use coconut aminos for soy sauce.
Ingredients
1 Tbsp olive oil

2 c cooked, chopped chicken (rotisserie or leftover)

3 garlic cloves, minced

1 red bell pepper, diced

1 onion, diced

1 c snow peas, sliced in half

3 Tbsp red curry paste

1 Tbsp freshly grated ginger

6 c chicken or vegetable broth

1 can coconut milk

8 oz rice noodles

1 Tbsp soy sauce or tamari

2 tsp brown sugar

3 green onions, thinly sliced

½ c chopped fresh cilantro leaves (plus extra for topping)

2 Tbsp freshly squeezed lime juice
Preparation
1. Heat olive in a large pot or Dutch oven. Add garlic, bell pepper, and onion. Cook for 5–6 minutes, or until the onion turns translucent. Add the snow peas and cook an additional 2–3 minutes.
2. Stir in the red curry paste and ginger. Cook until fragrant, about 1 minute.
3. Stir in broth, coconut milk, chicken, soy sauce, and brown sugar. Bring to a boil and simmer 5–10 minutes to allow flavors to meld. Then stir in the rice noodles and simmer until the noodles are tender (be careful not to overcook).
4. Remove from heat and stir in green onions, ½ cup cilantro, and lime juice. When serving, feel free to top with more cilantro.