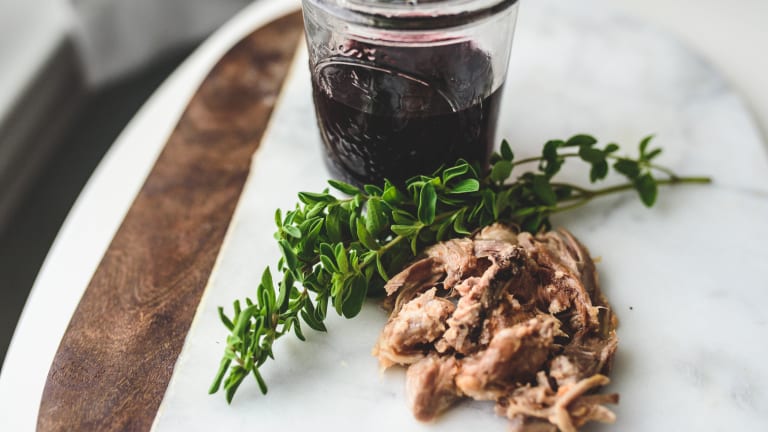 Pulled Pork Sandwiches
Paleo: Serve with lettuce wraps or over cauliflower rice instead of buns.
Gluten-free: Use gluten-free buns.
Ingredients
Shredded Pork
3 lb pork roast

2 tsp kosher salt

½ tsp ground black pepper

½ tsp garlic powder

½ tsp onion powder

½ tsp smoked paprika

1 tsp dried oregano

1 Tbsp vegetable oil

½ - ¾ c red wine

Up to 1 c beef broth, as needed
Sandwiches
Brioche buns

Provolone cheese

Your favorite BBQ sauce
Preparation
1. To make the rub, mix the kosher salt, black pepper, garlic powder, onion powder, smoked paprika, and oregano together.
2. Coat the bottom of a large frying pan with vegetable oil. Heat to medium high. A pan that is not non-stick works best for this.
3. Dry the pork roast with paper towels. Cut off any large chunks of fat on the outside of the roast. Generously apply the rub to all sides of the roast.
4. When the oil is good and hot (you should be able to smell it), brown the pork roast on all sides. Be patient with it. There is no specific amount of time to do this for (I would guess 1-3 minutes per side), just try to get as much of the outside browned as possible. Those dark brown parts on the outside are delicious, so the more you get the better.
5. When all sides are brown, transfer the roast to a slow cooker.
6. Turn the pan on the stove to low heat. Add the wine to the pan. Stir around the bottom of the pan for about 1 minute trying to loosen as many of the flavorful bits as you can.
7. Pour the contents of the pan over the roast in the slow cooker. You will want to have at least ½ inch of liquid in your slow cooker (this can vary depending on its size) or the pork could dry out. If the pan juices do not provide ½ inch of liquid, add up to 1 cup of beef broth to the slow cooker.
8. Cook on low for 6-8 hours.
9. When finished, assemble sandwiches with brioche buns, provolone cheese, and your favorite BBQ sauce.