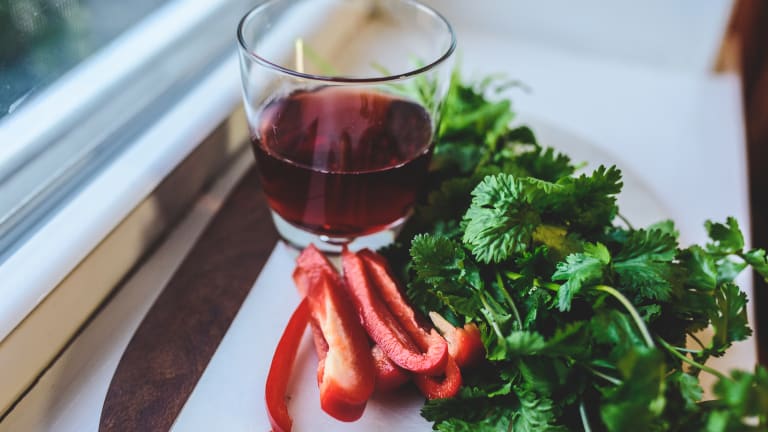 Pork Tenderloin with Chimichurri, Cilantro-Lime Rice, and Corn Pepper Sauté
The combination of everything in this recipe creates a beautiful plate, truly a dish that is restaurant worthy! The best part–it's just not that hard. Make the chimichurri in advance to eliminate one step from your meal prep that night. I also highly recommend investing in a good meat thermometer (I love my ThermoPop): it's the secret to not overcooking a pork tenderloin.
Paleo: Omit corn from sauté. Use cauliflower rice instead of white rice. Use ghee instead of butter. 
Duration

Cook Time

Prep Time

4

Servings
Ingredients
Chimichurri
¼ cup hot water

2 tsp dried oregano

2 tsp kosher salt

1 1/3 cups loosely packed flat-leaf parsley leaves

2/3 cup loosely packed cilantro leaves

6 medium garlic cloves, minced

½ tsp red pepper flakes

¼ cup red wine vinegar

½ cup olive oil
Pork tenderloin
1 lb pork tenderloin

1 tsp cumin

1 tsp oregano

2 tsp salt
Sauté
1 cup white rice

½ cup cilantro, chopped

1 lime

1 red bell pepper, diced

1 cup frozen corn, thawed

1 Tbsp butter

1 tsp cumin

Salt & pepper
Preparation
Preheat oven to 425°. While oven is preheating, prepare the chimichurri.
For the chimichurri:
Combine hot water, oregano, and salt in small bowl; let stand 5 minutes to soften oregano.
Pulse parsley, cilantro, garlic, and red pepper flakes in food processor until coarsely chopped, about ten quick pulses.
Add water-herb mixture and vinegar and pulse briefly to combine.
Transfer mixture to medium bowl and slowly whisk in oil until incorporated and mixture is emulsified. If possible, let stand at room temperature at least 1 hour before serving.
For the pork tenderloin:
Rub pork tenderloin with cumin, oregano, and salt, and transfer to a sheet pan or glass baking dish.
Cook for 25-30 minutes, or until pork reaches a temperature of 145°.
While the pork is in the oven, make the cilantro lime rice:
Cook 1 cup rice according to package instructions.
Add chopped cilantro, the juice of 1 lime, and salt to cooked rice.
For sauté:
Heat butter in a skillet.
Add red pepper, corn, cumin, salt and pepper.
Cook for 5-7 minutes or until pepper is crisp-tender.
Serve the pork tenderloin over rice with sauté and chimichurri poured over as desired.