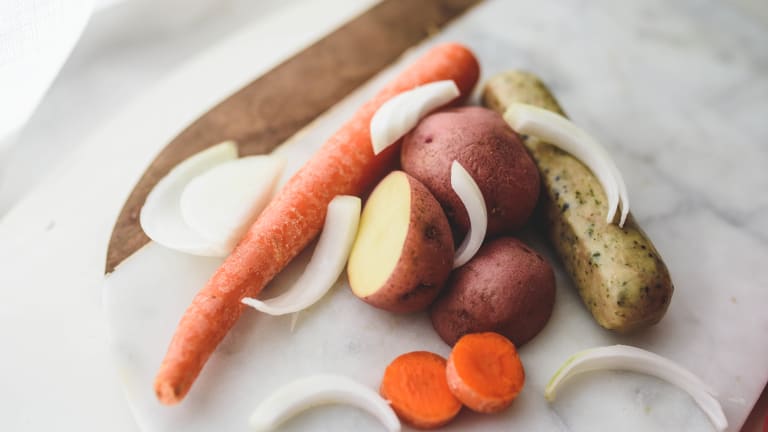 Polish Sausage and Veggie Sheet Pan
Sheet pan meals are the best—easy prep, easy cleanup. I love how the Polish sausage almost caramelizes when it roasts, and I could eat roasted carrots all day long. If you don't have it already, you're welcome in advance for adding smoked paprika to your pantry.
Vegetarian: Substitute tofu for Polish sausage—press tofu with paper towels to remove some moisture, cut into rectangles or triangles, and then add it to the pan before you add the oil and seasonings and toss it with the veggies.
Paleo: Replace red potatoes with sweet potatoes. 
Ingredients
12 oz package Polish sausage, cut into ¼-inch slices

4 large carrots, sliced on the diagonal into ¼ -inch slices

1 onion, cut into 1-inch pieces

2 medium red potatoes, cut into ¼-inch thick pieces

2 Tbsp olive oil

½ tsp smoked paprika

1 tsp cumin

1 tsp garlic powder

1 tsp salt

½ tsp pepper
Preparation
1. Preheat oven to 400°.
2. Spread carrots, onion, and red potatoes on a large sheet pan. Drizzle with olive oil and sprinkle with smoked paprika, cumin, garlic powder, salt and pepper. Toss to coat the veggies with the oil and seasonings. Add sliced Polish sausage to the pan.
3. Place the sheet pan in the oven and roast for about 25–30 minutes, tossing/flipping once about halfway through cooking. Cook until veggies and sausage are browned, adding cooking time if needed.