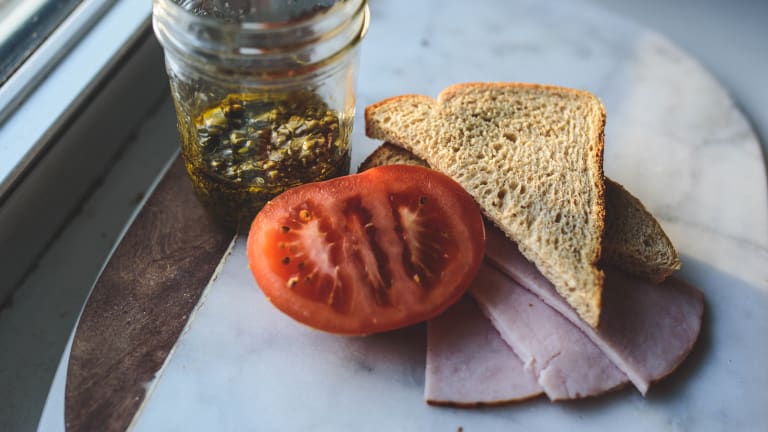 Pesto Turkey Sandwiches
If you're anything like me, you probably have a jar of pesto in your fridge, just dying to be used. You can add pesto to so many things, but one of my favorite ways to use up that jar is to slather it on a sandwich. In my "Already Stocked" recipes, I always encourage you to use what you have—you could sub in different veggies, leave off the mayo, use a different kind of bread, etc.
Vegetarian: Omit turkey; add an additional slice of cheese, hummus (in place of the mayo), and/or an additional vegetable.
Gluten-free: Use gluten-free bread or a lettuce wrap.
Paleo: Use Paleo-friendly rolls or a lettuce wrap. Omit cheese.
Ingredients
8 slices thick-sliced multi-grain bread

4 Tbsp pesto

4 Tbsp mayonnaise

½ lb deli sliced turkey

4 slices Provolone cheese

4 slices green leaf lettuce

4 slices tomato

1 c sprouts
Preparation
1. To prepare each sandwich, spread mayo on one slice of bread and pesto on the other slice. Layer the bottom slice of bread with turkey, provolone, lettuce, tomato, and sprouts.
2. Top with other slice of bread.