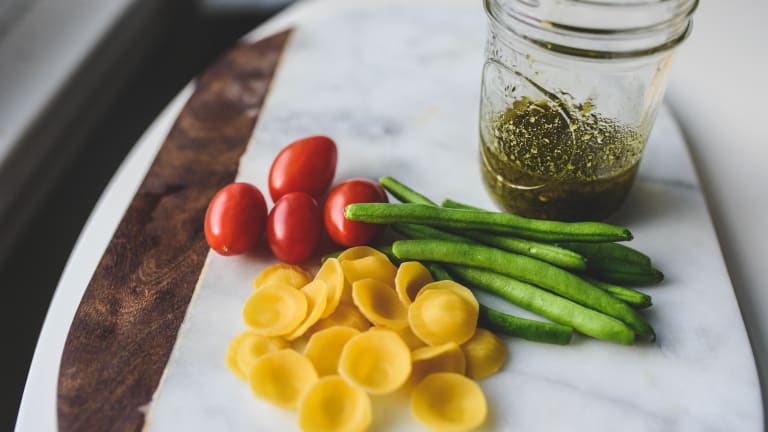 Pesto Shrimp Orecchiette
This pasta dish is heavy on the veggies—a meal you can feel good about eating!
Gluten-free: Use your favorite gluten-free pasta instead of orecchiette.
Ingredients
½ lb orecchiette

1 Tbsp butter

2 cloves garlic, minced

12 oz raw, medium shrimp, peeled and deveined

2 small zucchini, chopped into ¼-inch cubes

2 c frozen cut green beans, thawed

1 pint grape tomatoes, halved

1 small jar pesto

Grated Parmesan cheese
Preparation
1. Cook orecchiette according to package instructions. Before draining orecchiette, reserve 1 cup pasta water.
2. Heat 1 Tbsp butter in a skillet over medium heat. Add the garlic and shrimp. Cook until the shrimp turn pink. Remove shrimp from pan and set aside.
3. Add chopped zucchini and green beans to pan. Sauté about 5-6 minutes, until tender and zucchini is lightly browned. Add grape tomatoes and cook another 1-2 minutes.
4. Return shrimp to the pan. Add cooked orecchiette to pan. Toss with enough pesto to coat and thin the sauce with the reserved pasta water as needed. Top with grated Parmesan.