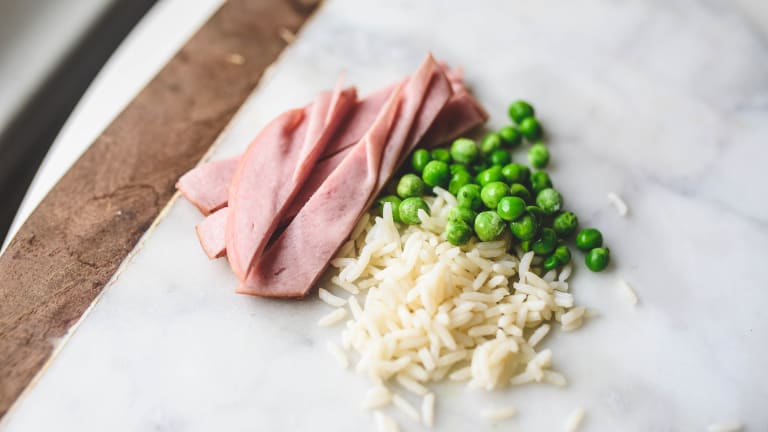 Pesto Risotto with Ham and Peas
Risotto comes together pretty quickly, but it is a hands-on dish. Be prepared to stir and stir and stir. It's a fun dish, something that most of us do not eat all the time, so it's perfect for entertaining!
Vegetarian: Omit ham; add ½-1 cup more peas.
Paleo: Use ghee for butter. Use cauliflower rice instead of arborio; saute with ghee and some white wine as needed, then add broth little by little, as needed to soften rice and cook peas. Omit cheese; replace with Paleo-friendly cheese and nutritional yeast or more vegetables, if desired. 
Ingredients
6 c vegetable or chicken broth

2 Tbsp butter

½ c chopped sweet onion

1 c arborio rice

½ c dry white wine

1 c frozen peas, thawed

1 c diced ham

⅔ c pesto

1 c diced fresh mozzarella

½ c grated Parmesan
Preparation
1. Heat broth to a simmer in a large pot.
2. Heat 1 tablespoon butter in a large skillet over medium-high heat. Add the onion and cook about 5 minutes or until translucent and tender. Add arborio rice and cook, stirring, 1-2 minutes, until rice is slightly transparent.
3. Add the wine and cook, stirring about 1 minute (until liquid almost evaporated). Add 2 cups of the broth to the rice, stirring, until almost absorbed, about 5-6 minutes. Add 1 more cup of broth and again, cook, stirring, until almost absorbed, another 5-6 minutes.
4. Add the peas and 1 more cup of the broth and cook, stirring, until almost absorbed. Test the rice (take a little bite!) and if it is not tender and cooked through, add a bit more broth and continue cooking. (With risotto, you basically just keep adding liquid and letting it absorb until the rice is cooked through.)
5. Stir in the ham and 1 tablespoon of butter. Remove from the heat and add the diced mozzarella, pesto and Parmesan. Season with salt and pepper, to taste. Sprinkle with a little more Parmesan, if desired.