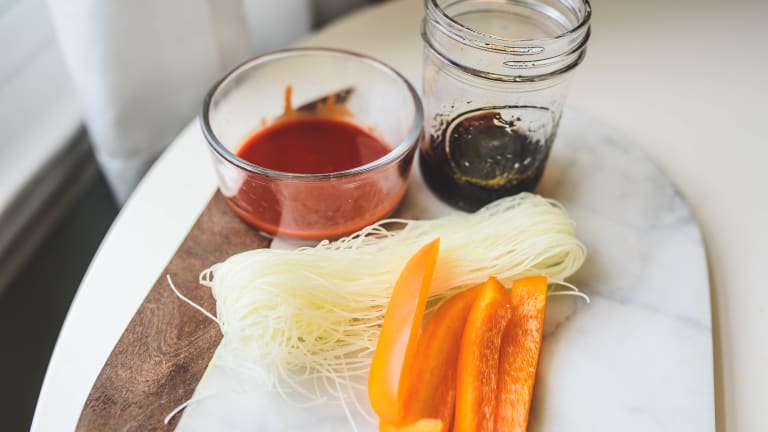 Pad Thai
Cooking Pad Thai at home is much easier than you might imagine. This dish makes plenty of leftovers, and if you're a lover of Thai food, it might quickly become a household staple. 
Gluten Free: Use tamari or coconut aminos instead of soy sauce.
Paleo: Use spaghetti squash or zucchini noodles instead of rice noodles; almond butter instead of peanut butter; coconut aminos instead of soy sauce; a Paleo-friendly Sriracha, like Steve's PaleoGoods; and coconut sugar instead of brown sugar.
Vegetarian: Omit chicken. 
Duration

Cook Time

Prep Time

2–4 (with leftovers)

Servings
Ingredients
½–¾ lb straight cut rice noodles

2–3 bell peppers (mix or match the variety of your choice), diced

½ c peanut butter

¼ c soy sauce

3 Tbsp lime juice

2 Tbsp Sriracha

2 Tbsp brown sugar

1 lb chicken, diced

Additional vegetables, if desired (like snap peas, broccoli, or more bell peppers)
Preparation
1. To prepare, dice the chicken and peppers to desired size; set aside.
2. Boil a large pot of water.
3. While the water is boiling, brown chicken in a stovetop pan using olive oil (about 1-2 Tbsp); set aside.
4. When water begins to boil, add noodles. Cook for 10-12 minutes, or until noodles are at desired tenderness. Add vegetables to the pot for the last 2-4 minutes, so that they soften, also.
5. Make the sauce while waiting for the noodles to cook: combine peanut butter, soy sauce, lime juice, brown sugar, Sriracha, and 3 Tbsp of boiling water from pot into a small bowl. Whisk until ingredients are combined thoroughly.
5. Once noodles are cooked and vegetables are softened, drain in a colander. Add noodles and vegetables back to pot.
6. Add chicken and sauce to the noodles and vegetables. Stir until all ingredients are thoroughly coated.
7. Serve with extra Sriracha, if desired.