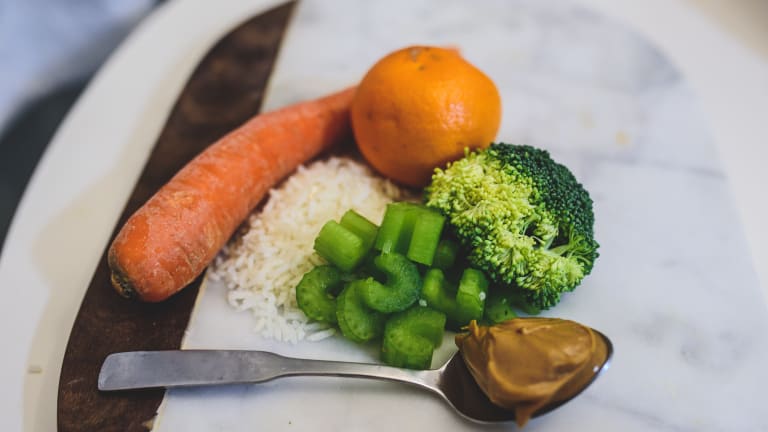 Orange-Peanut Stir Fry
Peanut sauce is always so satisfying. The beauty of a stir fry is that you can use whatever vegetables you have on hand. Check your fridge and freezer to see what vegetables you may have to use—feel free to switch it up!
Vegetarian: Use tofu instead of chicken. 
Duration

Prep Time

4

Servings
Ingredients
Stir Fry
2 large carrots, sliced on the diagonal

1 celery stalk, sliced on the diagonal

1 red pepper, cut into strips

2 c fresh or frozen broccoli florets

1 11-oz can mandarin oranges

¼ c peanuts

1 lb boneless, skinless chicken thighs, cut into 1-inch pieces

3 Tbsp vegetable oil

2 c cooked white rice

Cilantro, chopped (optional)
Sauce
1 c orange juice

Juice from mandarin oranges

1 Tbsp soy sauce or tamari

¼ c peanut butter
Preparation
1. For the sauce: Combine orange juice, mandarin orange juice, and soy sauce (or tamari) in a small saucepan. Bring to a simmer and reduce over medium heat by about half. Stir in peanut butter; reduce a few more minutes. Set aside.
2. For the stir fry: Heat 1 Tbsp oil in a wok pan or large skillet on medium-high. Add chicken and cook until done. Remove chicken from pan.
3. Add the remaining 2 Tbsp oil to the skillet. Add carrots, celery, red pepper, and broccoli to pan and cook, stirring periodically, for 10-12 minutes. Add chicken, peanuts, and the sauce to the pan. Stir to combine.
4. Serve with rice. Garnish with mandarin oranges and cilantro.