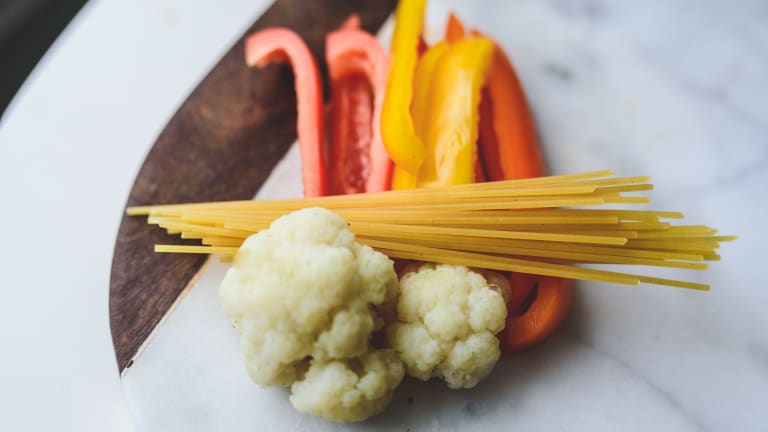 Orange Chile Noodles with Roasted Chicken and Veggies
This pasta is so flavorful and, paired with chicken & veggies, it's a delicious complete meal. I love making a big batch of roasted veggies for the week. You can add them to eggs for breakfast, to a wrap or salad for lunch, or warm them up as your side for dinner.
Gluten-free: Use Gluten-free noodles.
Paleo: Use Zucchini noodles.
Vegetarian: Omit chicken.
Duration

Cook Time

Prep Time

4-6

Servings
Ingredients
For the Chicken & Veggies:
1 lb. boneless, skinless chicken breasts, cut into 1-inch cubes [omit for vegetarian]

1 yellow pepper, cut into 1-inch pieces

1 red pepper, cut into 1-inch pieces

3 carrots, sliced on the diagonal into ¼ inch pieces

½ head cauliflower, florets cut into thin (about ¼ inch) slices

Salt & pepper

Olive oil



For the Orange Chile Noodles
16 oz. [substitute GF pasta or zucchini noodles]

½ cup vegetable oil

3 cloves garlic, minced

1 tablespoon peeled, minced fresh ginger

1 orange, zested and juiced

¼ cup soy sauce or Tamari or Coconut Aminos

1/3 cup sweet chile sauce

Chopped fresh cilantro (optional)
Preparation
Preheat oven to 400°.
Spread chicken pieces and vegetables on a large cookie sheet or jelly roll pan. Drizzle with about 2 tablespoons of olive oil and sprinkle with salt and pepper.
Place sheet pan in oven and roast for approximately 30 minutes, stirring once halfway through cooking. Cook until vegetables are browned and chicken is no longer pink.
Bring a large pot of water to boil.
While the water is coming to a boil, make the sauce: whisk vegetable oil, garlic, ginger, orange zest, orange juice, soy sauce, and sweet chile sauce in a 2-cup glass measuring cup or medium bowl.
When the water has come to a boil, add spaghetti and cook to al dente, according to package instructions. Drain pasta and add pasta back to pan.
Pour the sauce over the cooked spaghetti and toss.
Toss the chicken and veggies with the pasta or keep them separate and serve the pasta alongside the chicken and veggies. (Keep in mind how you want to use the leftovers!)
Top pasta with chopped cilantro, if desired.