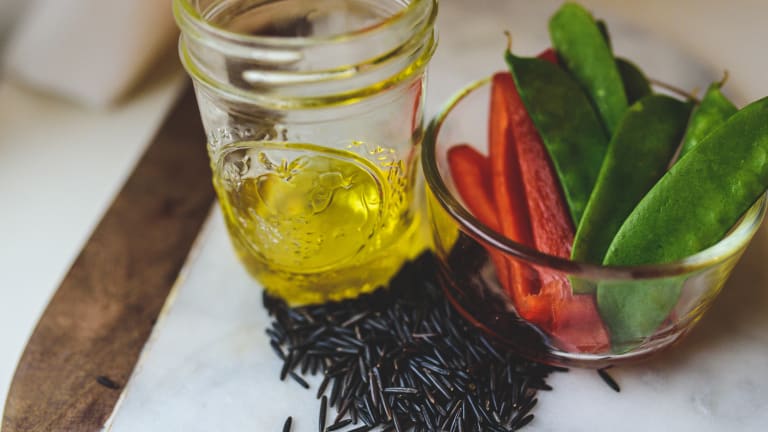 Northwoods Wild Rice Salad
This is one of my absolute favorite salad recipes. It tastes phenomenal, but I think I mostly enjoy it so much because it's something a little different. If you cannot find wild rice, I recommend using a wild rice blend. You could add cooked chicken or pork if you would like. Also, cook the rice the night before for easy prep at dinner time!
Paleo: Use cauliflower rice instead of cooked wild rice. Omit sugar from dressing. 
Duration

Cook Time

Prep Time

4

Servings
Ingredients
Salad:
1 c uncooked wild rice

5 ½ c water

Juice of ½ lemon

3 green onions

½ red bell pepper

2 oz sugar snap peas, sliced into ½ inch pieces

1 c pecan halves, toasted
Dressing:
2 large garlic cloves, minced

1 Tbsp brown or Dijon mustard

½ tsp salt

¼ tsp sugar

¼ tsp pepper

¼ c rice vinegar

⅓ c olive oil
Preparation
1. Rinse rice. Add water to a medium saucepan and simmer for about 45 minutes, until rice has burst slightly (according to package instructions).
2. Whisk together dressing ingredients in a small bowl or glass measuring cup.
3. When rice is done, rinse in cold water to chill, then toss with lemon juice in a large bowl. Add the vegetables and toss with dressing.
4. Cover and refrigerate until ready to serve (it's best if it can refrigerate for 2-4 hours or more, but serving right away is fine too). Add pecans just before serving.