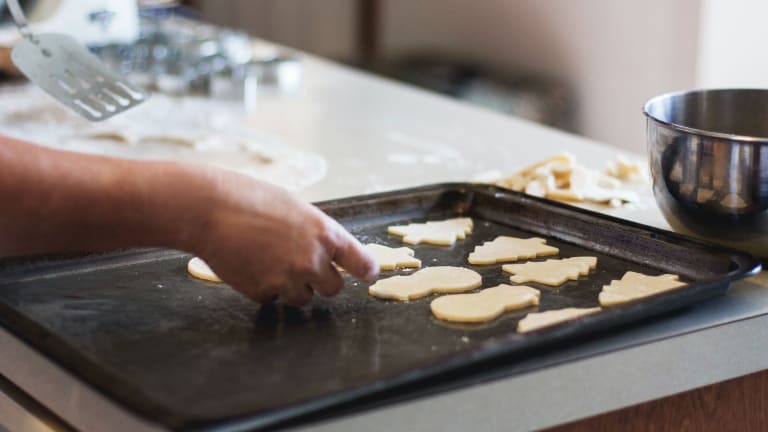 No-Chill Sugar Cookies
This recipe makes cut out cookies that don't spread and are DELICIOUS. I love sitting with my mom and decorating them with royal icing. Just a note—it's a big batch of cookie dough! My mixer is smaller than my mom's, so I usually just make half the recipe—otherwise it doesn't mix well.
Cook Time

Prep Time

About 4 dozen average-size cookies

Servings
Ingredients
The Cookies
4 sticks unsalted butter; softened (cool but not room temp)
2 cups granulated sugar

1 tsp salt

2 large eggs, cold

1 Tbsp vanilla

6 cups all-purpose flour

The Royal Icing
1lb powdered sugar

1 ½ Tbs meringue powder

6 Tbsp warm water

1 Tbsp lite corn syrup

1 tsp vanilla extract

1 tsp lemon juice

Preparation
The Cookies
1. In the bowl of stand mixer with paddle attachment add butter, sugar and salt. Mix on lowest speed (do not want to incorporate air to prevent spreading while baking).
2. Add the cold eggs and vanilla. Mix again on lowest speed, just until incorporated into the butter and sugar.
3. Scrape down sides and bottom of bowl and mix a few more seconds until no big chunks of butter. Add flour and mix again on low until it all comes together. I will start to clean the sides of the bowl and gather on the paddle.
4. Roll out on lightly floured parchment paper. I roll with 3/8" dowels on each side to make the cookies a uniform thickness.
5. Cut out cookies and bake on parchment lined cookie sheets at 325 degrees for 10-14 minutes.
The Royal Icing
1. Place powdered sugar, meringue powder, corn syrup, vanilla, lemon juice, or flavoring of your choice in the mixer.
2. Mix on medium speed, adding water a little at a time to achieve a pourable consistency, like heavy cream. Mix for 5-8 minutes. Add additional powdered sugar to desired thickness as needed