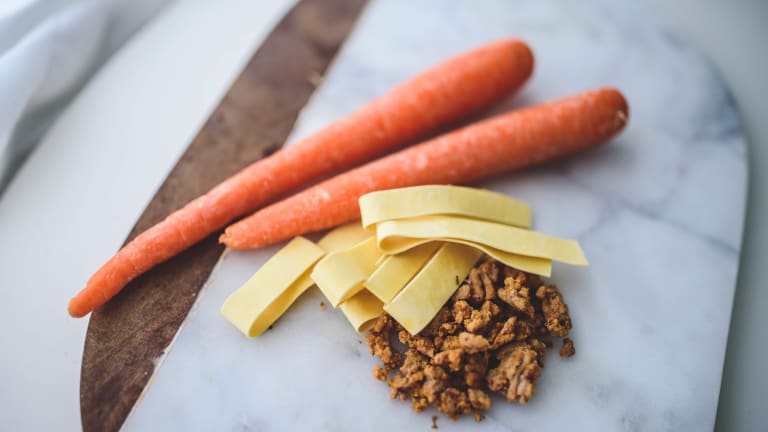 Moussaka Pasta with Dill Carrots
The first time I went to a Greek restaurant, I ordered moussaka, and man, did I ever hit the jackpot! The flavors are so phenomenal. You will hardly feel like you're eating a meal filled with classic pantry ingredients and spices. Moussaka, as it is traditionally made, is like a lasagna, with eggplant, potatoes, and an impressive cheese custard on top. It is a lot of work (totally worth it on the weekend), so not great for a weeknight meal. This version pares things down so you still get the flavor of moussaka without all the fuss.
Gluten-free: Use gluten-free pasta or serve over cooked, sliced potatoes, or roasted eggplant.
Paleo: Serve over roasted eggplant. For carrots: Use ghee instead of butter.
Vegetarian: Use lentils in place of ground beef—at the step where you add the ground beef, add ¾ cup lentils and 2 cups of water (plus all the rest of the ingredients normally included); cook until lentils are tender, about 30 minutes.
Ingredients
Moussaka Pasta
2 Tbsp olive oil

1 medium onion, chopped

3 cloves garlic, minced

1 lb ground beef

1 tsp dried oregano

1 tsp ground cinnamon

¼ tsp nutmeg

2 tsp salt

¼ c dry white wine

14.5 oz can diced tomatoes, drained

2 Tbsp tomato paste

2 Tbsp Worcestershire sauce

1 bay leaf

1 lb egg noodles
Carrots
6 carrots, peeled and sliced on the diagonal (about ¼ inch thick)

1 Tbsp butter

½–1 tsp dried dill

Salt and pepper
Preparation
1. Heat olive oil in a large skillet over medium heat. Add onion and garlic to the pan and cook until onion is translucent.
2. Add the beef, oregano, cinnamon, nutmeg, 2 teaspoons salt and a little pepper. Cook until the beef is mostly browned, but still slightly pink.
3. Add the wine and bring to simmer. Allow it to simmer about 3–4 minutes or until slightly reduced.
4. Add the tomatoes, tomato paste, Worcestershire and bay leaf. Bring to a simmer, cover, and simmer for about 30 minutes.
5. In the meantime, cook your pasta according to package instructions and prepare the carrots. Place carrots in a skillet with about ½ inch of water (or in a steamer basket, if you have one). Cover the pan, allowing the water to simmer gently, and steam for about 12-15 minutes, or until the carrots are crisp tender.
6. Drain the water from the pan. Add the butter, dried dill, and salt and pepper to taste to the carrots. Toss to coat.