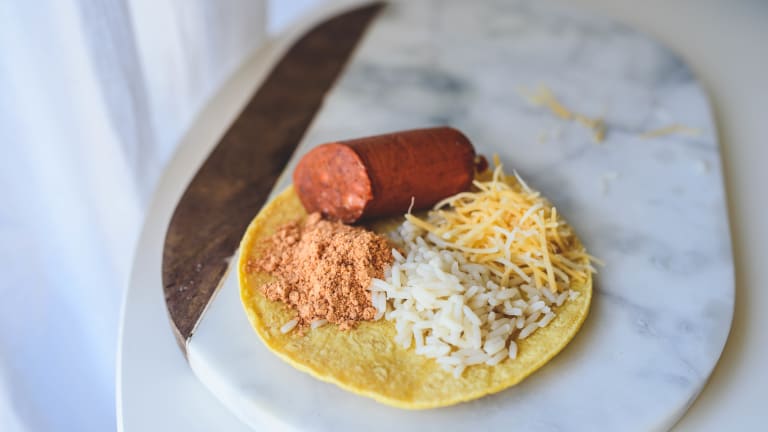 Mexican Fiesta Platter
When having guests over, it can be fun to put out a big platter of food! It also makes the food stretch, which is nice on the budget, too. No one will feel like they're eating a low-budget meal with this one, though!
Paleo: Use cauliflower rice instead of white rice; omit cheese and sour cream; saute ingredients in a medium skillet instead of baking. Double chorizo; omit beans. Use Paleo-friendly tortillas.
Vegetarian: Omit chorizo. 
Ingredients
Chile Cheese Rice:
2 c cooked white rice

½ c sour cream

½ c chopped green onions

4 oz can chopped green chiles, drained

1 c shredded cheddar cheese

Dash of cayenne pepper.

Salt

2-3 Tbsp butter

¼ c grated Parmesan cheese
Beans:
½ lb chorizo, cooked/browned

2 cans pinto beans, partially drained

2 Tbsp taco seasoning

Water, as needed
Other sides for your platter:
2 Roma tomatoes, sliced

1 avocado, sliced

Cilantro sprigs

10 corn tortillas

Shredded cheddar cheese

Sour cream
Preparation
1. Preheat oven to 450°.
2. In a large bowl, mix cooked rice, ½ cup sour cream, ½ cup chopped green onions, chopped green chiles, 1 cup shredded cheddar cheese, and salt and cayenne to taste.
3. Butter a casserole dish and sprinkle with grated parmesan cheese. Spread the rice mixture in the dish, sprinkle with more parmesan and dot with butter. Bake for 20 minutes.
4. In a large skillet, cook chorizo until browned and cooked through. Add the pinto beans (with some of their juices) and taco seasoning. Smash some of the beans slightly, while leaving some whole.
5. Cook for about 5 minutes, stirring occasionally. Add a little water if the beans are getting too thick. Scoop the beans into a bowl for serving.
6. For serving, put out the chile cheese rice, beans, and a plate arranged with all the sides.