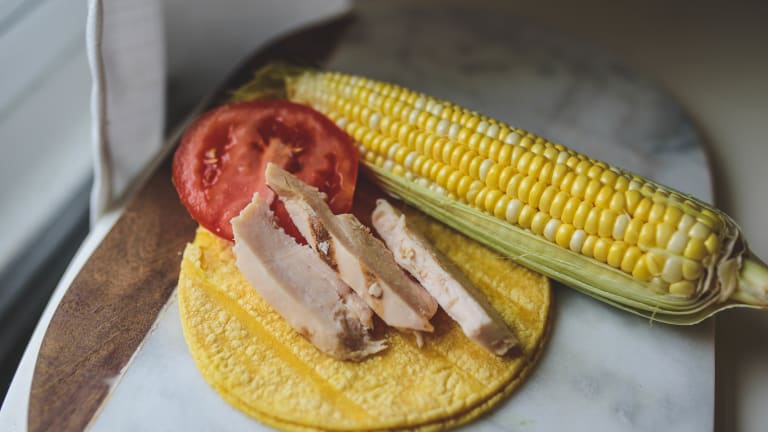 Mexican Chicken Wraps
These wraps come together very quickly, with no cooking involved, if you already have some chicken cooked up. I love cooking a whole chicken on Sunday and then breaking it down and chopping it up for meals later in the week. You can also freeze cooked chicken, which is a huge time-saver for weeknight cooking.
Gluten-free: Use your favorite gluten-free tortilla or wrap, or enjoy as a salad.
Vegetarian: Omit chicken; add more beans, avocado and/or extra veggies.
Paleo: Use Paleo-friendly tortillas or enjoy as a salad. Replace corn and beans with avocado and diced bell peppers. Omit cheese; use Paleo-friendly ranch dressing. 
Ingredients
4 burrito-sized tortillas

1 c cooked chicken, shredded or diced (Rotisserie chicken or any leftover chicken works well)

1 ½ c shredded lettuce

1 Roma tomato, chopped

1 Roma tomato, chopped

1 can black beans, drained and rinsed

1 c shredded Colby-jack cheese

¼ c ranch salad dressing

¼ c salsa
Preparation
1. Mix ranch dressing and salsa together in a small bowl.
2. Load up each tortilla with chicken, shredded lettuce, tomatoes, corn, black beans and cheese.
3. Drizzle with the salsa-ranch dressing. Tuck the ends in and roll up. Enjoy!