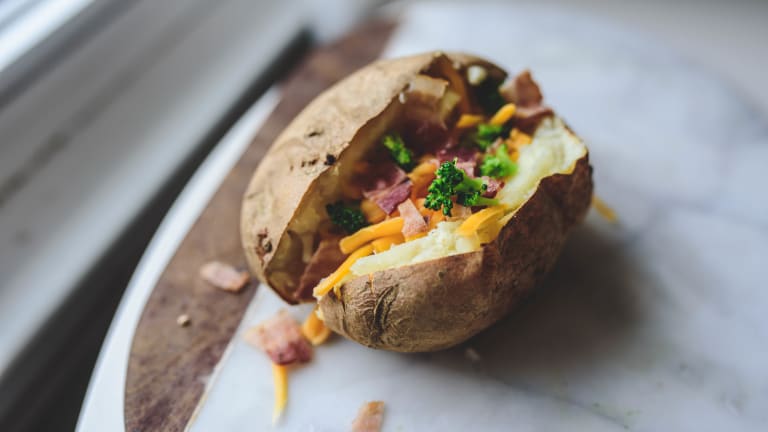 Loaded Baked Potatoes
Baked potatoes are such an easy meal, and I'd bet you have at least a few of these ingredients on hand! It can be fun to experiment with different toppings, but this version features the classics: bacon, broccoli, and cheese.
Vegetarian: Omit bacon; replace with sautéed sliced mushrooms.
Paleo: Use ghee instead of butter. Omit cheese and sour cream; replace with green onions.
Ingredients
4 baking potatoes (russet), washed

½ lb bacon

10 oz package frozen broccoli (microwavable/steamable bag)

2 Tbsp butter

1 c shredded cheddar cheese

8 oz container sour cream
Preparation
Preheat the oven to 350°. Poke a few holes in the potatoes with a fork. Bake the potatoes for 60-75 minutes, until tender (poke with a fork to check—they should be soft inside). [Microwave instructions: Microwave potatoes for 7 minutes, turning once halfway through. If not yet tender, microwave longer in 1-minute increments.]
Cook the bacon in a skillet until crispy. Crumble.
Steam the broccoli in the microwave according to package instructions.
Assemble potatoes: cut potato down the middle to open. Fill with butter, bacon, broccoli, shredded cheese, and sour cream.