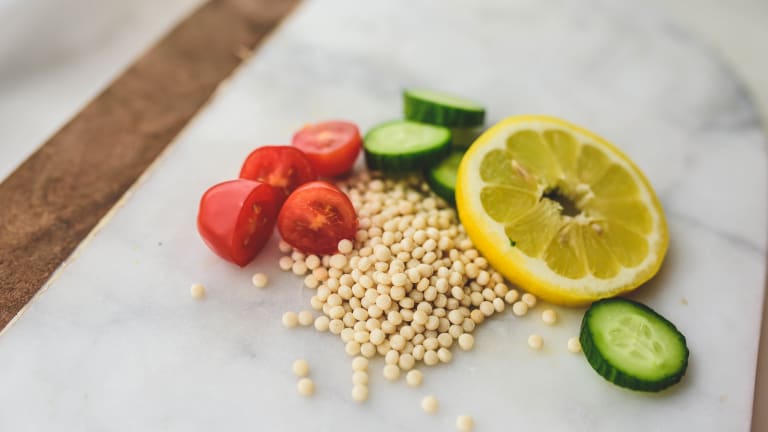 Lemony Israeli Couscous Salad
I love Israeli couscous. It is so toothsome and delicious, something that makes this salad unique. If you can't find Israeli couscous at your grocery store, you could substitute barley or farro. This is great as a light and healthy meal, or you could serve it with any grilled meat.
Gluten-free: Substitute quinoa for Israeli couscous.
Paleo: Substitute cauliflower rice for Israeli couscous. Replace chickpeas with cooked chicken and sliced bell peppers for feta cheese. 
Ingredients
4 Tbsp olive oil, divided

1 ⅓ cup Israeli couscous (sometimes called pearl couscous)

2 c water

1 pint grape tomatoes, halved

1 English cucumber, chopped

1 c canned chickpeas

8 oz feta cheese

1 medium lemon, juiced

Salt and pepper
Preparation
1. In a large saucepan, heat 1 tablespoon of oil over medium heat. Add the Israeli couscous to the pan and cook until golden, about 4-5 minutes.
2. Add 2 cups of water and about ½ teaspoon salt and bring to a boil. Cover and allow to simmer about 10 minutes, or until the couscous is tender (al dente) and the liquid is absorbed. Place couscous in a mesh strainer and run under cold water for a couple minutes to cool.
3. To assemble the salad, place cooled couscous in a large bowl. Toss with tomatoes, cucumber, chickpeas, and feta.
4. Drizzle with enough lemon juice and olive oil to coat. Season with salt and pepper, to taste. Toss to combine.