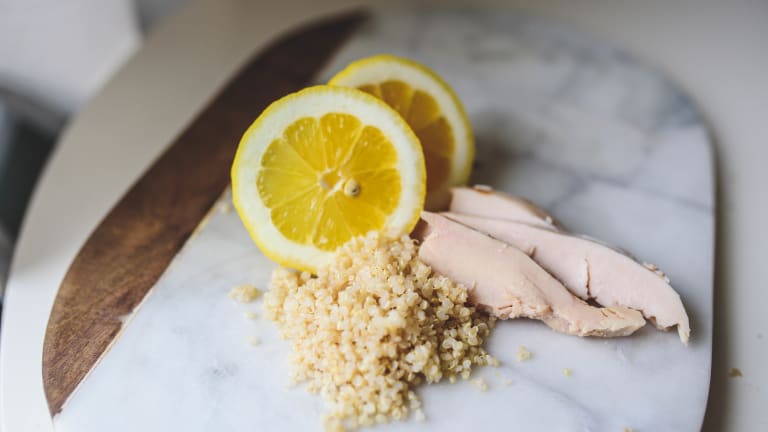 Lemon Quinoa Bowls with Chicken
For entertaining, you could prepare these for each guest or have everybody create their own bowl—that way people could tailor it to their own liking or adjust based on their own dietary restrictions. These bowls are really adaptable and also so pretty and bright, which makes them perfect for impressing your guests.
Vegetarian: Omit chicken.
Paleo: Use cauliflower rice instead of quinoa; omit feta cheese.
Duration

Cook Time

Prep Time

4

Servings
Ingredients
Chicken:
4 boneless, skinless chicken thighs

2 Tbsp lemon juice

1 clove garlic, minced

2 Tbsp olive oil, divided

Salt & pepper
Lemon Quinoa:
½ c dry quinoa

1 c vegetable or chicken broth

Pinch of salt

Juice of ½ a lemon (approx. 1.5 Tbsp)
Salad:
6 c spring mix lettuce

1 pint grape tomatoes, halved

½ medium red onion, thinly sliced

6 oz feta cheese

1 c fresh cilantro

Balsamic vinaigrette
Preparation
1. In a medium-sized bowl, whisk together lemon juice, garlic, olive oil, and a sprinkle of salt and pepper. Add chicken to the mixture and marinade for about 15 minutes.
2. In a small saucepan, combine quinoa, broth and salt together. Bring to the boil; reduce heat to a simmer, cover with a lid and cook for 15 minutes or until broth has absorbed and quinoa is soft. Remove from heat and set aside. Allow to cool slightly, fluff with a fork, and add the lemon juice.
3. Heat a large cast-iron skillet over medium heat. Drizzle the pan with a little olive oil. Add chicken thighs to pan and sauté until browned on both sides and cooked through. Remove from heat and slice into thin strips.
4. Put the salads together: In each of four individual bowls, place some of the lemon quinoa in the bottom and top with spring mix, tomatoes, onion, Feta, cilantro, and chicken slices. Drizzle lightly with balsamic vinaigrette.