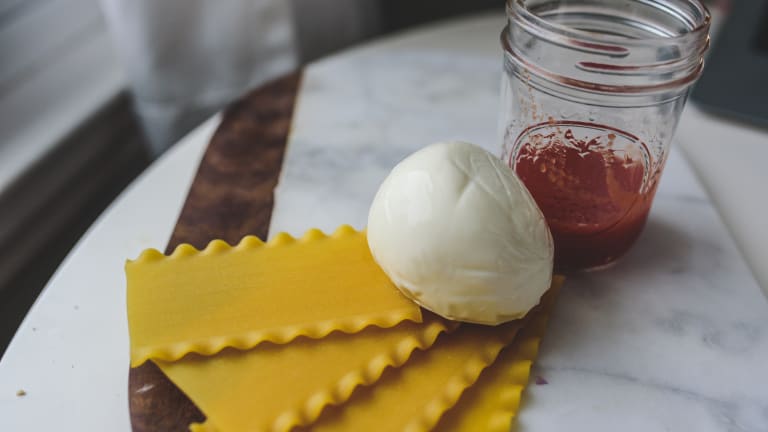 Lasagna Rolls
A fun spin on lasagna! The lasagna rolls are nice, individual servings of lasagna and look really pretty to serve to guests (or your family). Rolling up each noodle doesn't take any more time than creating the layers in a typical lasagna, so don't fret about the process.
Gluten-Free: Use Gluten-Free noodles.
Vegetarian: Omit ground beef.  
Duration

Cook Time

Prep Time

6

Servings
Ingredients
1 lb. ground beef

1 jar marinara sauce

8 oz cream cheese softened

1 egg

10 oz frozen spinach, thawed

¼ cup finely chopped onion

8 oz mozzarella cheese

1/8 tsp pepper

1 clove minced garlic

8 lasagna noodles

Grated parmesan cheese
Preparation
1. Bring a pot of water to boil and cook lasagna noodles according to package instructions.
2. Preheat oven to 350°.
3. Heat a skillet over medium heat, then add the ground beef. Cook beef until browned and no longer pink. Add marinara sauce to the beef. Remove from heat and set aside.
4. Beat egg, then beat cream cheese into the egg until smooth. Stir in spinach, onion, garlic and pepper.
5. Spread a thin layer of the cream cheese mixture onto a lasagna noodle, sprinkle with mozzarella cheese, then roll up from short end. Place seam side down into a 9 x 13 pan. Repeat with remaining lasagna noodles. Top lasagna rolls with marinara sauce and a hearty sprinkling of parmesan cheese.
6. Bake, covered, at 350° for 25 min, then uncover and cook an additional 10-15 minutes or until the sauce is bubbly.