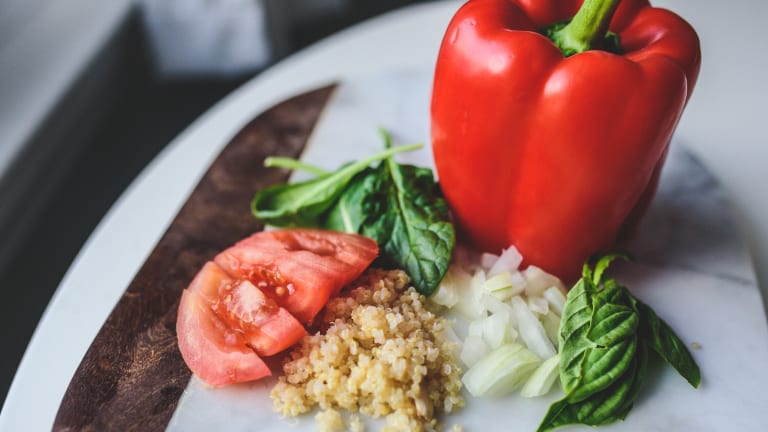 Italian Quinoa Stuffed Peppers
I recommend cooking the quinoa the night before. It doesn't take long, but having that step out of the way when you're trying to throw this together in the evening will help a ton!
Paleo: Replace quinoa with riced cauliflower. Omit cheese or replace with nutritional yeast.
Vegetarian: Replace Italian sausage with 1 can cannellini beans, drained and rinsed. 
Duration

Cook Time

Prep Time

4

Servings
Ingredients
4 red bell peppers

⅔ c dry quinoa

1 ⅓ cup water

½ tsp salt

½ lb Italian sausage

2 Tbsp finely chopped onion

1 c canned diced tomatoes, drained

½ c spinach, chopped

¼ c chopped fresh basil

¼ c grated Parmesan cheese

8 oz fresh mozzarella cheese, cubed; reserve 2 thin slices to top the peppers
Preparation
1. Preheat oven to 350°.
2. Cut the tops off the red peppers. Slide a knife around inside to remove the seeds and ribbing. Set aside.
3. Rinse quinoa in a fine mesh strainer. Add quinoa, water and salt to a small saucepan. Bring to a boil, then reduce heat to low and cook for 15-20 minutes, until most of the water is absorbed. Remove from heat and keep covered for another 3-5 minutes, until water is absorbed.
4. Heat a skillet over medium heat and add Italian sausage and onion. Cook until sausage is cooked through and onions are translucent. Remove from heat.
5. Mix quinoa with cooked sausage and onions, diced tomatoes, spinach, basil, Parmesan cheese, and cubed mozzarella.
6. Fill each pepper with the quinoa mixture. Top with a thin slice of fresh mozzarella cheese.
7. Place peppers on a sheet pan and bake for 30 minutes. Remove from oven and enjoy!