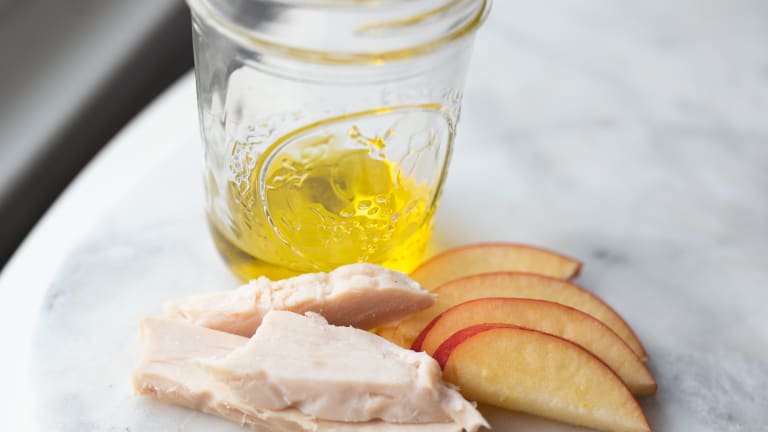 Honey-Mustard Chicken & Apples
Such a comforting meal! This would be an impressive, yet easy and cost-effective, meal to serve for company. If you want, pair with crusty bread & simple spinach salad.
Gluten free: Substitute flour for cornstarch or gluten free flour of choice.
Paleo: Substitute flour for Paleo friendly flour. Substitute butter for ghee.
Duration

Cook Time

Prep Time

4-6

Servings
Ingredients
6-8 skin-on, bone-in chicken thighs

Salt & pepper

2 tablespoon olive oil

1 large onion, cut into 1-inch chunks

2 pink lady apple, cut into slices

1 cup chicken broth

2 tablespoon brown mustard

3-4 tsp. honey

2 tsp. butter

½ tablespoon flour
Preparation
1. Preheat oven to 450°. Season chicken thighs with salt and pepper. Heat the olive oil in a cast-iron skillet (or other oven-proof skillet) over medium-high heat.
2. Place the chicken into the skillet, skin-side down. Cook about 6 minutes, or until golden. Turn over and cook another 3 minutes. Remove chicken to a plate or dish.
3. Add the onion and apples to the skillet. Season with salt and pepper. Cook about 5 minutes, or until apples are a little softened and onions are beginning to brown.
4. Mix together the broth, mustard, and honey, then add to the pan and bring to a boil.
5. Add the chicken thighs, skin-side up, back to the pan. Place the skillet in the oven and cook about 20 minutes, or until the chicken is cooked through. Place the chicken, apples, and onions on a platter.
6. Mix together butter and flour in a small bowl. Bring the juices in the skillet to a simmer on the stove and gradually add the flour-butter mixture to thicken the sauce (only use as much as you need to make it thicker). Pour over chicken, apples, and onions.
Season with salt and pepper and serve with crusty bread and simple spinach salad, if desired.
7. (optional) Prepare spinach salad – place spinach in a bowl and drizzle with red wine vinegar and oil. Sprinkle with salt & pepper.