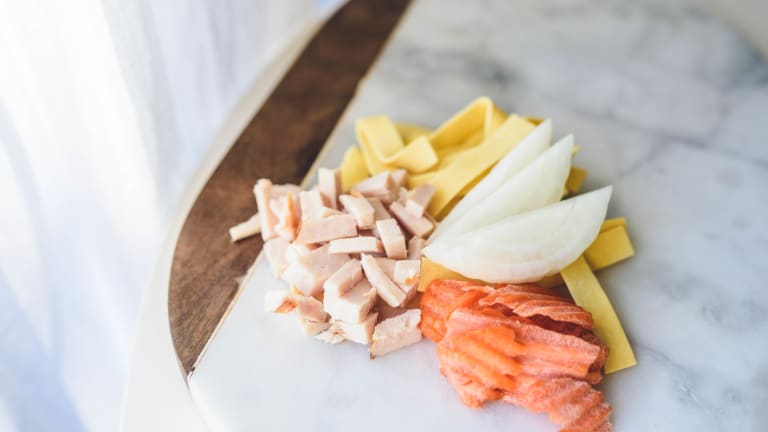 Hearty Chicken Noodle Soup
I love classic chicken noodle soup, but I always end up feeling like it's not a complete meal, like I need some more veggies or a sandwich or something. The thing I love about this soup is that, with the addition of parsnips and spinach, it does feel like a full, balanced meal. Enjoy the leftovers for lunch all week!
Paleo: Omit noodles or use Paleo alternative of your choice.
Gluten-free: Use gluten-free noodles of your choice instead of egg noodles. 
Duration

Cook Time

Prep Time

4-6

Servings
Ingredients
2 Tbsp olive oil

1 c chopped onion

4 medium carrots, diagonally sliced

3 small-medium parsnips, diagonally sliced

3 garlic cloves, crushed

7 c unsalted chicken stock

2 tsp dried thyme

2 bay leaves

4-5 (6-oz) bone-in chicken thighs, skinned

4 oz medium egg noodles

4 c baby spinach

¾ tsp salt

½ tsp freshly ground black pepper
Preparation
Heat a large Dutch oven over medium-high heat. Add oil to pan; swirl to coat. Add onion, carrot, parsnip, and garlic to pan; sauté 5 minutes. Add stock, thyme, bay leaves, and chicken.
Bring to a boil. Reduce heat; simmer 20-30 minutes or until chicken is done.
Remove chicken and vegetables from pan; let chicken stand 10 minutes. Shred the chicken. Discard bay leaves. Increase heat to medium-high. Stir in the noodles; cook 6 minutes or until done. Return chicken and vegetables to pan; stir in spinach and salt and pepper, to taste.