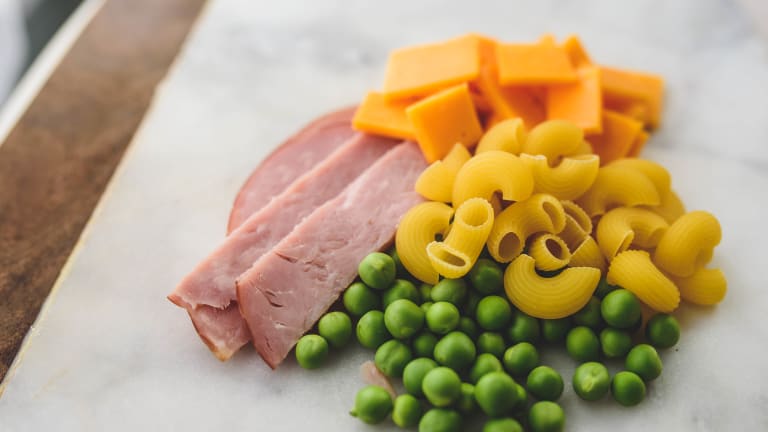 Ham and Pea Macaroni
This might just be my son's favorite meal. I think the macaroni makes him think of it as mac and cheese. It's a great, easy meal that gets in a protein and a veggie. I always have frozen peas in the freezer and a ham steak is another good, versatile freezer staple. This is a simple weeknight meal to throw together!
Gluten-free: Use your favorite gluten-free pasta.
Vegetarian: Omit ham steak; use 1 ½ c frozen mixed vegetables instead of 1 c frozen peas.
Ingredients
¾ lb dried macaroni noodles

2 Tbsp butter, divided

1 lb ham steak, diced

1 c frozen peas

¼-½ c grated Parmesan cheese

1 c pasta water, reserved

Salt and pepper, to taste
Preparation
1. Bring a large pot of water to boil. Cook the macaroni according to package instructions. Before draining, reserve 1 cup of the pasta cooking water.
2. In a large skillet, heat about ½ Tbsp butter over medium heat. Add the ham and peas and cook until peas are no longer frozen.
3. Add cooked pasta to pan and add ¼ cup Parmesan, ¼ cup pasta water, and the remaining butter. Sprinkle with salt and pepper.
4. Toss, adding more cheese and/or pasta water to coat the pasta well (you don't want it to be dry).