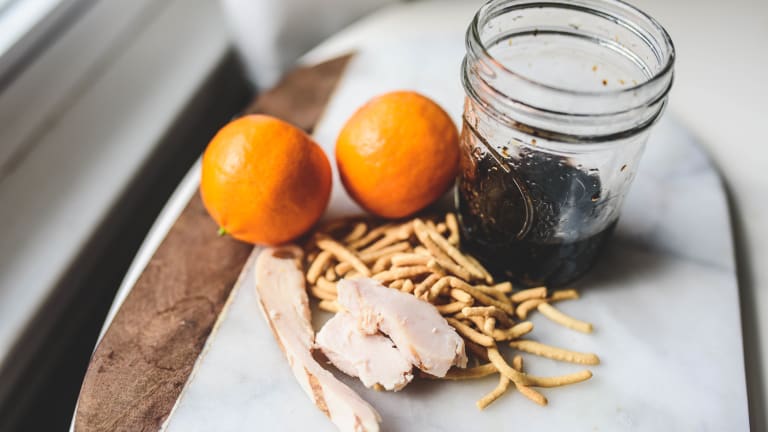 Grilled Asian Chicken Salad
This is my favorite chicken marinade—it is so versatile and so consistently good. This salad is crisp and crunchy, especially topped with the almonds and chow mein noodles. No fancy ingredients, but you'll end up with a fancy-looking salad!
Vegetarian: Use extra-firm tofu instead of chicken. 
Paleo: Omit chow mein noodles. Use Paleo-friendly salad dressing.
Gluten-free: Omit chow mein noodles.
Cook Time

Prep Time

4

Servings
Ingredients
Marinade:
½ c soy sauce, tamari, or coconut aminos

¼ c vegetable oil

¼ c red wine vinegar

1 tsp oregano

½ tsp basil

½ tsp garlic powder

¼ tsp pepper
Salad:
4 boneless, skinless chicken breasts

1 head Romaine lettuce, torn

1 can mandarin oranges, drained (or 4 clementine oranges, peeled and separated)

1 red pepper, thinly sliced

4 green onions, sliced

¼ c sliced almonds

½ c chow mein noodles

Bottled Asian salad dressing
Preparation
1. Combine all ingredients for marinade. Place the chicken breasts into a container or large Ziploc bag and pour marinade on top. Marinade overnight or at least several hours.
2. Grill chicken breasts until cooked through (165° on meat thermometer).
3. Divide the salad ingredients evenly onto four plates. Top with grilled chicken and drizzle with salad dressing.