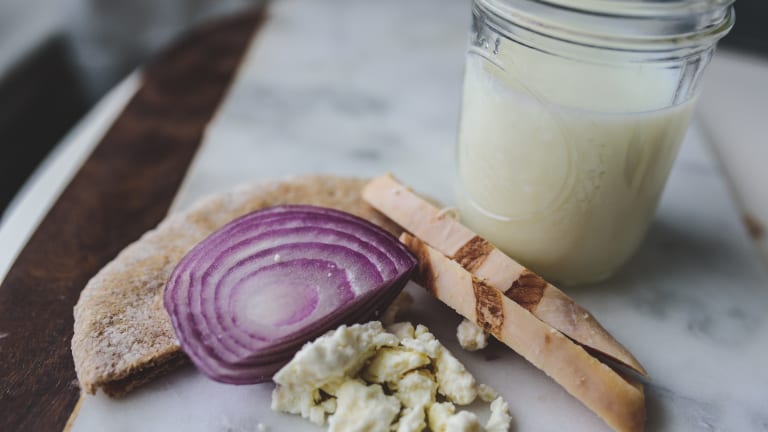 Greek Chicken Pitas
Tzatziki sauce makes my heart (and my taste buds) happy. It is so fresh and bright. Eat any leftover sauce with pita bread or crackers or use it in place of salad dressing.
Gluten-Free: Use Gluten Free pitas, lettuce wraps, or serve as salad.
Vegetarian: Omit chicken.
Paleo: Make a Paleo friendly Tzatziki sauce. Use Paleo Friendly pitas, lettuce wraps, or serve as salad. Omit feta.
Duration

Cook Time

Prep Time

4

Servings
Ingredients
1 TBSP oil

1/2 lb. boneless, skinless chicken breasts, sliced into thin strips

1 tsp. oregano

Salt & pepper

4 pita pockets

2 cups shredded romaine lettuce

1 large tomato, thinly sliced

½ red onion, thinly sliced

1 small can sliced black olives, drained

8 oz. Feta cheese

Tzatziki Sauce *Note – you could purchase pre-made Tzatziki, but I recommend trying the recipe!



Tzatziki Sauce:
½ cup grated, peeled English(seedless) cucumber

1/3 cup plain yogurt

1/3 cup sour cream

1 ½ TBSP chopped fresh dill

¾ tsp white wine vinegar

½ tsp kosher salt

1/8 tsp black pepper

1 garlic clove, minced
Preparation
Heat 1 TBSP olive oil in a skillet over medium heat.
Season chicken pieces with oregano, salt, & pepper.
Sauté chicken until lightly browned and no longer pink. Remove chicken from pan.
Tzatziki sauce instructions:
Place cucumber in a clean kitchen towel; squeeze to remove excess liquid.
Combine cucumber and remaining ingredients in a bowl, stirring with a whisk.
Serve immediately, or chill until ready to eat.
Assemble pitas with chicken, lettuce, tomato, red onion, olives, feta, and tzatziki sauce.