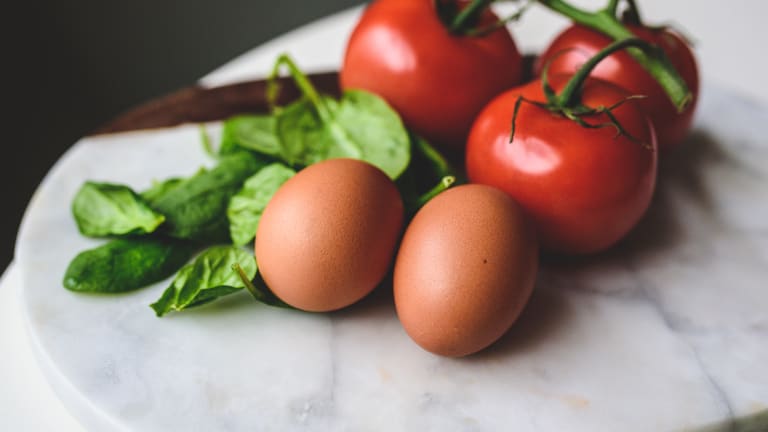 Frittata with Tomatoes, Sweet Corn & Basil
Frittatas are the best—economical, easy, and oh-so-flexible. You can eat it hot, warm, or at room temperature. And I love breakfast for dinner!
Duration

Cook Time

Prep Time

3-5

Servings
Ingredients
10 large eggs

1/2 cup grape tomatoes, quartered

2 garlic clove, crushed

1 1/4 tsp. salt

3/4 tsp. freshly ground black pepper

2 cup frozen sweet corn kernels, thawed

2 TBSP butter

2 TBSP. chopped fresh basil

1/2 cup feta cheese
Preparation
1. Position a rack in the middle of the oven and preheat to 350 degrees.
2. Whisk the eggs, then add the tomatoes, garlic, salt, pepper, and the sweet corn.

3. Warm a medium nonstick oven-safe saute pan (or cast iron skillet) over medium heat on the stove top. Add the butter and when it foams, add the egg mixture and the basil.
4. Using a heatproof rubber spatula, pull the edges of the eggs towards the middle a few times, tipping the pan to distribute the egg. Cook for about 4 minutes.
5. Sprinkle with the feta cheese and finish the frittata in the oven for about 6 minutes or until the eggs are just set (no longer runny).
6. Remove from the oven and let the frittata sit for a couple of minutes. Cut the frittata into slices and serve!